ARTICLE
2014 Safety sign guide
17 December 2013
Stocksigns is delighted to announce that our new 2014 catalogue and safety sign guide is out now, with 30% off some of our most popular signs.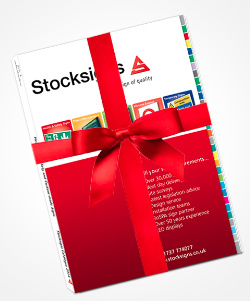 As always Stocksigns brings you one of the most comprehensive range of safety signs in the UK, complying with the latest applicable legislation. Great value and quality with rapid supply and if you don't see what you need we can design a sign to your own requirements.
The biggest change to the catalogue is the inclusion of our Top 100 products supplement. To make choosing your health and safety signs easier, this supplement brings together our most popular products in one place. On top of that we have reduced many by up to 30%.
Our catalogue is packed with advice and information to help you meet your legal and safety obligations. With over 50 years of experience in the safety arena you can be sure you are talking to knowledgeable professionals who are always ready to help. For more information please contact sales@stocksigns.co.uk
Order your 2014 safety sign catalogue now.
OTHER ARTICLES IN THIS SECTION