FLTA unveils award hopefuls
19 November 2013
Safety and ergonomics have come to the fore as the Fork Lift Truck Association (FLTA) unveils its Pick of the Year for the 2014 FLTA Awards for Excellence.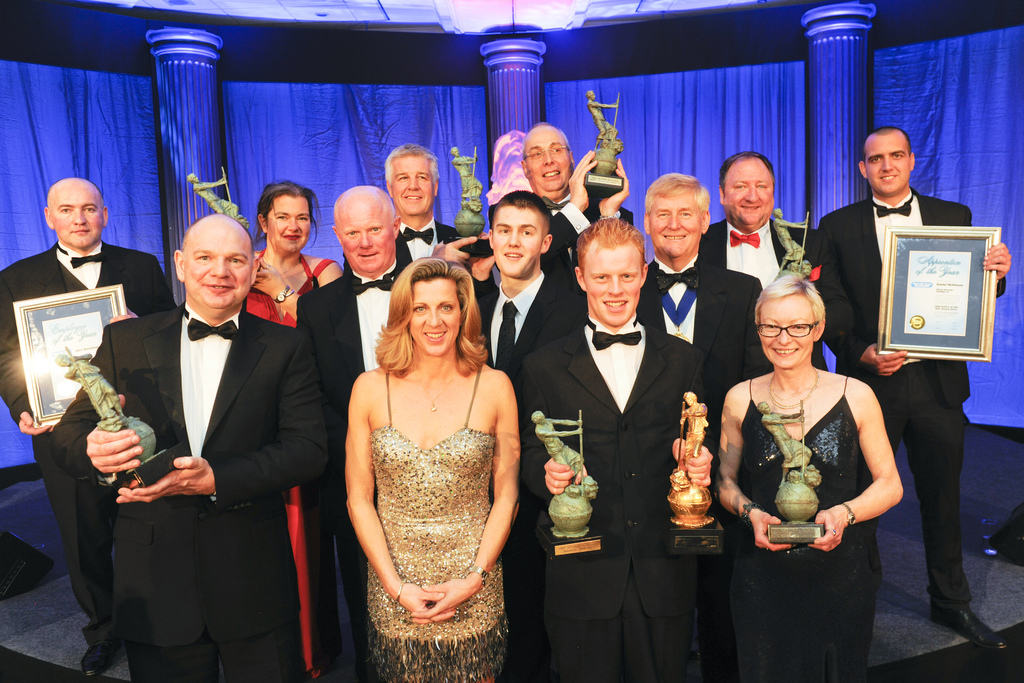 Announcing the finalists for the Fork Lift Truck Association's Awards for Excellence 2014, the FLTA has praised the innovation displayed by companies shortlisted for the materials handling industry's most prestigious Awards – and has urged everyone to cast their vote.

The 24 nominations – representing 17 companies from across the globe – will form the industry's annual Pick of The Year and will vie to earn an 'Archie' at Awards 2014, to be held on Saturday 1st February at the Birmingham Hilton Metropole.

FLTA chairman Geoff Martin says: "This year's finalists comprise the very best of the year's products, services and people.

"This list represents all that's finest in the fork lift truck sector – in its widest sense: from collision avoidance systems and remarkable fuel efficient engines to life-saving safety campaigns and futuristic gloves that remotely control trucks.

"Each has made a significant contribution to raising standards – which is why it is so important for their efforts to be recognised through a vote by the very people who actually stand to benefit from these achievements."

Safety
In the Safety category, there are eight nominations ranging from fork trucks to ancillary products and a safety campaign.

AEC Designs has been nominated for ForkAngles - a patent-pending device developed to help drivers of counterbalance trucks set the correct mast tilt position accurately and quickly so that the forks are aligned with the load.

B&B Attachments has entered the KAUP Conveyer Belt Forks (T180FG), which helps to grip a range of products to the attachment, increasing stability and reducing the potential for accidents.

Briggs Equipment UK has been nominated for its BE Safe campaign which is promoting a 'stop and think' culture among employees empowering them to talk to managers if they have any safety concerns.

CESAB Material Handling UK has entered the intelligent mast design on the new 80v Cesab B600 fork lift, which is designed to deliver smart, innovative features that help operators to work more safely.

Combilift has been nominated for the Combi-WR, its first pedestrian reach stacker, which features a unique multiposition tiller arm allowing the operator to remain at the side of the unit rather than between the rear and the racking, eliminating crush risk.

Linde Material Handling (UK) has entered the Reach Truck R14-R20 which features a host of safety innovations including that it has an unobstructed upward view and no distracting load backrest.

Sentry Protection Products has been nominated for the Collision Sentry, which helps reduce or eliminate 'blind corner' collisions by sending a visual warning that alerts fork lift drivers and pedestrians to approaching traffic.

Stanley Handling has entered the ROBUR K9 SBM Atlas, which was manufactured to lift 7000mm long glass frames to a height of 930mm. The bespoke design enables the truck to lift 1500kg at 2250mm load centre with the fork unit not exceeding 4500mm long.

Ergonomics
The Ergonomics category contains three nominations battling it out for a coveted Archie.

The Combilift Combi-WR4 has been nominated in the Ergonomics category, with the multi-position tiller, electronic power steering and precise fingertip controls reducing leaning, reaching, bending and general strain.

Atlet has entered Atlet Truck ERGOnomics (Tergo). The Atlet Tergo family of reach trucks represents a coming together of operator-centric ergonomic features, all designed to remove the negative effects of repetitive strain injury (RSI) and fatigue.

Cat Lift Trucks has been nominated for the Heavy Duty Platform Power Pallet Truck (NPF25N2) which is designed to take the hard work out of intensive medium to long distance transfers. It has a comfortable platform area, low noise levels and low step height.


Voting is open to anyone whose work involves materials handling equipment. Voting for Awards 2014 is now open and will close on 31
st
December 2013. To ensure validity, all voting will take place online. Find out more about each of this year's Finalists and cast your vote by visiting: www.fork-truck.org.uk/flta-awards.
OTHER ARTICLES IN THIS SECTION