ARTICLE
Free as a bird
31 May 2013
Following a tip-off, staff from Seahaven Bird Rescue rushed to a library in Newhaven to rescue some trapped pigeons.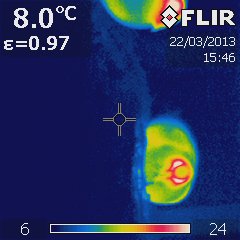 Some of the birds were hidden inside a wall cavity, so an infrared camera was hired from Ashtead Technology to investigate.
After releasing the birds, the rescuers inspected the cavity using the Flir i60 thermal camera. They found three nests containing eggs and that the cavity was a lot larger than first thought. The infrared camera also enabled the rescuers to determine that the eggs were no longer alive.
Founder of Seahaven Bird Rescue Carrie Grace said: "The i60 arrived self-calibrated, which meant that we just had to turn the camera on, aim and click. We also found the flashlight on the camera useful because our inspection went on late into the evening."
OTHER ARTICLES IN THIS SECTION