ARTICLE
Easier self-administered hearing tests
13 November 2019
WorkScreen, a new self-administered industrial hearing test system, is designed to make tests and compliance with Noise at Work Regulations easier than ever.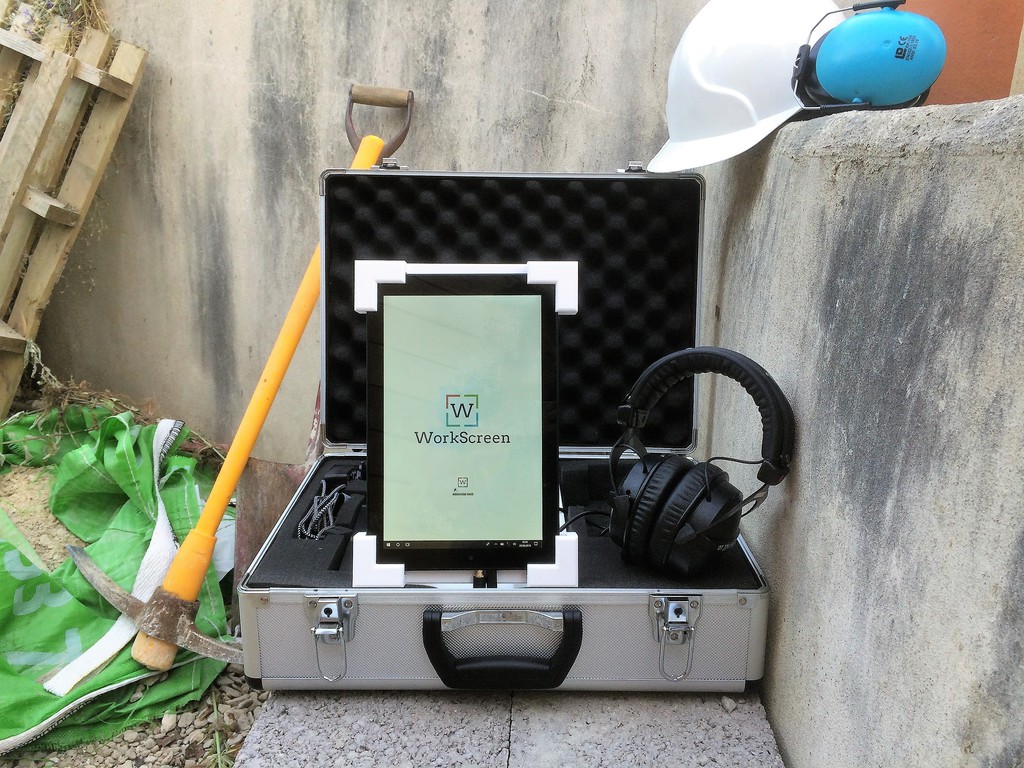 This innovation from the UK made a big noise at Health & Safety North in October, where over 2,000 Health and Safety professionals gathered.
WorkScreen is both a service and a system, aimed at helping organisations and individuals who need to test their hearing – often as part of a hearing surveillance regime, required under The Noise at Work Act. Clients can therefore hire the handset and pay a low price for a few tests – even a single test – or licence the system for a period of time, if their needs are more complex.
Portable and Flexible Technology
The wireless, rechargeable and go-anywhere WorkScreen handset accesses the same patented technology that drives hearing tests in the UK's most popular high street audiologists. This means it gives users instant access to high quality HSE-categorised hearing tests. The system was even on hand for delegates to try at Health & Safety North, demonstrating its flexibility and suitability for rapid deployment in support of Occupational Health Programmes anywhere.
Tom Parker, Director of WorkScreen points out that with WorkScreen, high quality, consistent results require no specialist training. In fact, the primary aim of the system is to improve access to this important health check and improve the awareness of hearing care as a vital contributor to overall wellbeing in-and out- of work.
Hearing Tests for Everyone with Less Disruption
"Essentially, our aim is to ensure everyone who needs a hearing test at work gets one, which is why we are so proud be founder members of the UK Hearing Conservation Association.
"For the same reason, I was really pleased to get enquires from organisations in sectors as diverse as hospitality, construction, brewing, rail and even from specialist departments in the NHS. I was particularly interested in the level of enquiries from Noise consultants and H&S consultants.
"I think our clients recognise that we can provide lower costs with better scalability and flexibility, because you can take a test at any time of day for any number of people at a time that is most suitable for your operations. I was also really pleased that a number of visitors also recognised WorkScreen's value in baselining staff hearing at induction, as well as for hearing surveillance."
Hearing and Risk
Hearing tests have an important part to play managing risk – and not only on a corporate 'compliance' level, but on an individual 'personal' level. Where the focus is often (and understandably) on meeting regulations, it is often overlooked that hearing is one of our five senses. Tom Parker comments: "Since hearing is a non-line of site sense, it is really important in personal safety. And yet, far too often we find that workers are on-site or in-post without any formal assessment of their ability to hear instructions, training, alerts or even warnings. There are many instances where hearing ability has played its part in accidents. Baseline hearing tests at induction are therefore a vital part of any personal risk assessment, as well as organisational risk management system."
WorkScreen is available now to rent or licence & WorkScreen is offering HSM readers a 10% introductory discount – just use: www.workscreenuk.co.uk/HSM by 31/12/19.
OTHER ARTICLES IN THIS SECTION