Home
>
Reaching over the dining room table
Reaching over the dining room table
16 September 2019
The National Trust has bought a work platform from LOBO Systems to help it maintain and clean high points on the stairs of its Cragside property and to reach other difficult-to-access areas.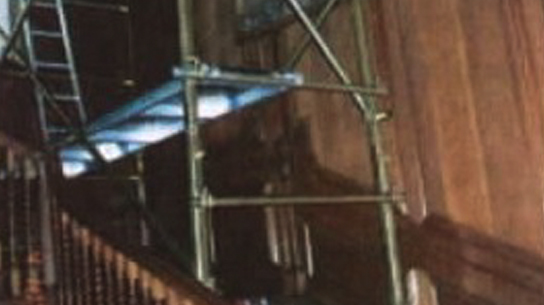 Cragside is perched high above the Debdon Burn in Northumberland and was the home of Lord Armstrong, a Victorian inventor and garden landscaper extraordinaire. If he could come back today he would very likely be fascinated to see – and climb – the intriguing LOBO System.
The work platform can be configured to meet any access application, allowing operatives to reach difficult locations and still comply with the Work at Height Regulations 2005. It is currently used on a wide range of applications – from maintaining the space shuttle in the US to cleaning wall tapestries in stately homes.
It is put together without any tools and its patented clamps provide a safe and secure working facility up to a maximum height of 10 metres. The ceiling in the drawing room at Cragside is approximately 7 metres high and to reach it for cleaning and maintenance is a real challenge.
Cragside house manager, Paul Hawkins, explains: "We also have the large oak Capstan Table in the dining room. It is very heavy and the top is flexible and we cannot easily move it. The LOBO is very convenient because we can stretch over the top and access other high areas of the room.
"Its other great advantage is flexibility and ease of assembly. It is a great asset if any emergencies arise where we need access to normally inaccessible places. Also, with the limited storage space we have available, LOBO can be split into relatively small sections and stored away until it is needed again."
The 200,000 people who visit Cragside each year never see LOBO but are all delighted that inaccessible locations are spotlessly clean and dust free thanks to its accessibility. Lord Armstrong was an inveterate inventor and Cragside is crammed full of ingenious gadgets.
It was one of the first houses in the world to be lit by hydroelectricity. The gardens boast Europe's largest hand-made rock garden. The estate is one of the last remaining shelters for red squirrels in England.
"He would have been delighted to see that another British invention, LOBO, is being used by us to maintain his very unique home," adds Paul.
For further information on LOBO Systems, visit: www.lobosystems.com
RELATED ARTICLES
No related articles listed
OTHER ARTICLES IN THIS SECTION