ARTICLE
Beaches Logistics opts for Nilfisk ride-on sweeper
10 December 2019
Beaches Logistics is a busy warehouse and distribution site in Carlisle that only closes for five hours a night. A Nilfisk ride-on sweeper is helping to ensure the site remains in pristine condition.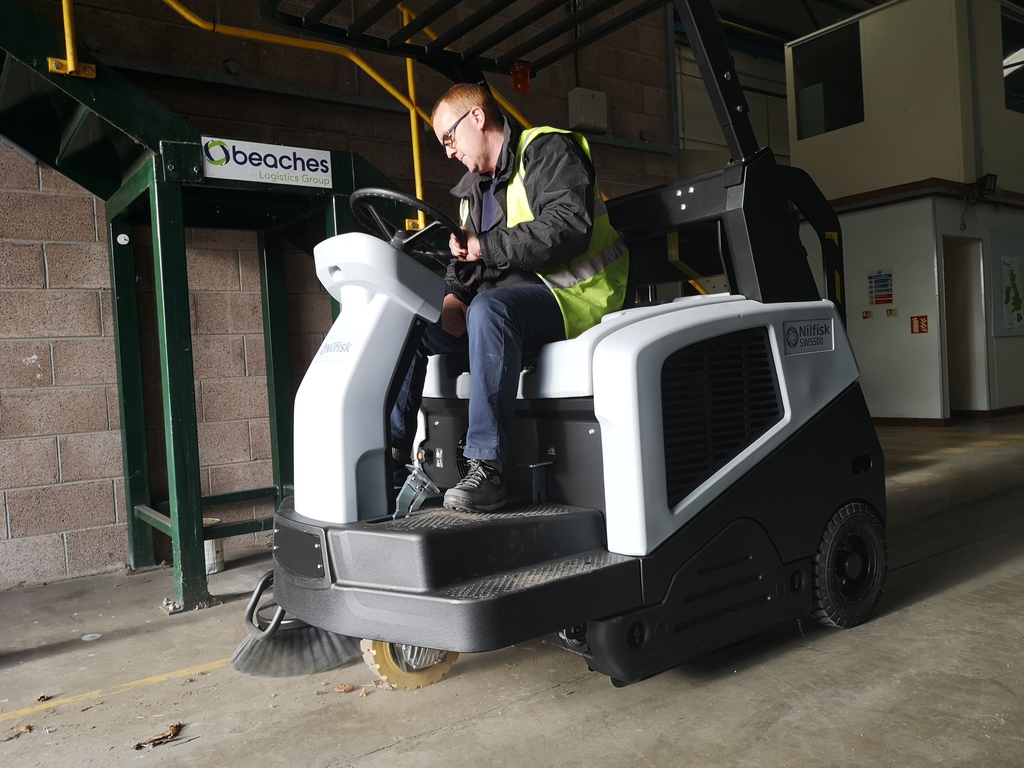 The operations manager at the brand new 40,000 square feet facility is Bryan Jones. Here, he outlines some of the factors influencing his choice of cleaning equipment:
The Cleaning Issue
A busy site like ours inevitably gets dirty quickly. In addition to distributing goods for clients we also provide storage for customers who access the warehouse themselves. Dust on rafters and stock items builds up quickly. I was determined to not let this start, to maintain standards for all concerned.
Stored goods include clothes and cleaning materials, so it is essential that dust and diesel fumes do not infiltrate the stock. Diesel powered cleaning equipment is therefore out of the question and we need to clean both indoors and outdoors. Whatever solution we chose had to be durable, good quality equipment that will stand up to the rigours of what we do every day.
We have a lot of trees surrounding the facility so clearing up leaves before they come into the building and or become a slip risk was key. Inside the facility we, like many others, have an issue with shrink wrap, pallet blocks, splinters and loose pallet straps. Forklifts are often driven straight over the top of rubbish, resulting in impellor damage which costs us money and critically downtime.
Nilfisk SW5500 Ride on Sweeper
A neighbouring depot in Penrith recommended Nilfisk and a prompt visit from their key account manager followed. The pre-sales service we received was excellent, hassle free, no pressure advice that resulted in a demonstration of the SW5500 Ride on Sweeping machine powered by LPG.
It was immediately clear that the machine was very efficient and so easy to drive, the staff were fighting over the opportunity to put it through its paces! Indoors and outdoors it did the job with ease, providing daily cleaning within the facility and external sweeping once or twice a week.
In our previous facility we were literally using a man and a broom to try to keep on top of the issue. This was ridiculously inefficient and left someone drawing the short straw. This cleaning process has really revolutionised our process and will ensure the facility stays pristine.
Lease Finance Deal
Given the financial outlay involved in purchasing the Nilfisk SW5500 I investigated a lease finance deal that would spread the cost across a 3-year period. The way I looked at it, the residual value of the machine would be low given our heavy usage so we could finance the machine over 3 years and include a full premium service contract that will fix the monthly outgoings.
For us this is an easier, cost effective solution. There is no variable element, just a planned monthly cost that has gone into the budget for the next 3 years. The whole process was seamless, professionally managed by our Nilfisk key account manager, who also conducted the staff training.
I really can't fault the service. Expert, informed, down to earth advice that I know we will draw on again in the future.
OTHER ARTICLES IN THIS SECTION