Heavy duty silicone-free gloves
23 May 2019
Unigloves has enhanced its PRO.TECT range of latex and nitrile disposable gloves, launching four heavy duty (HD) products.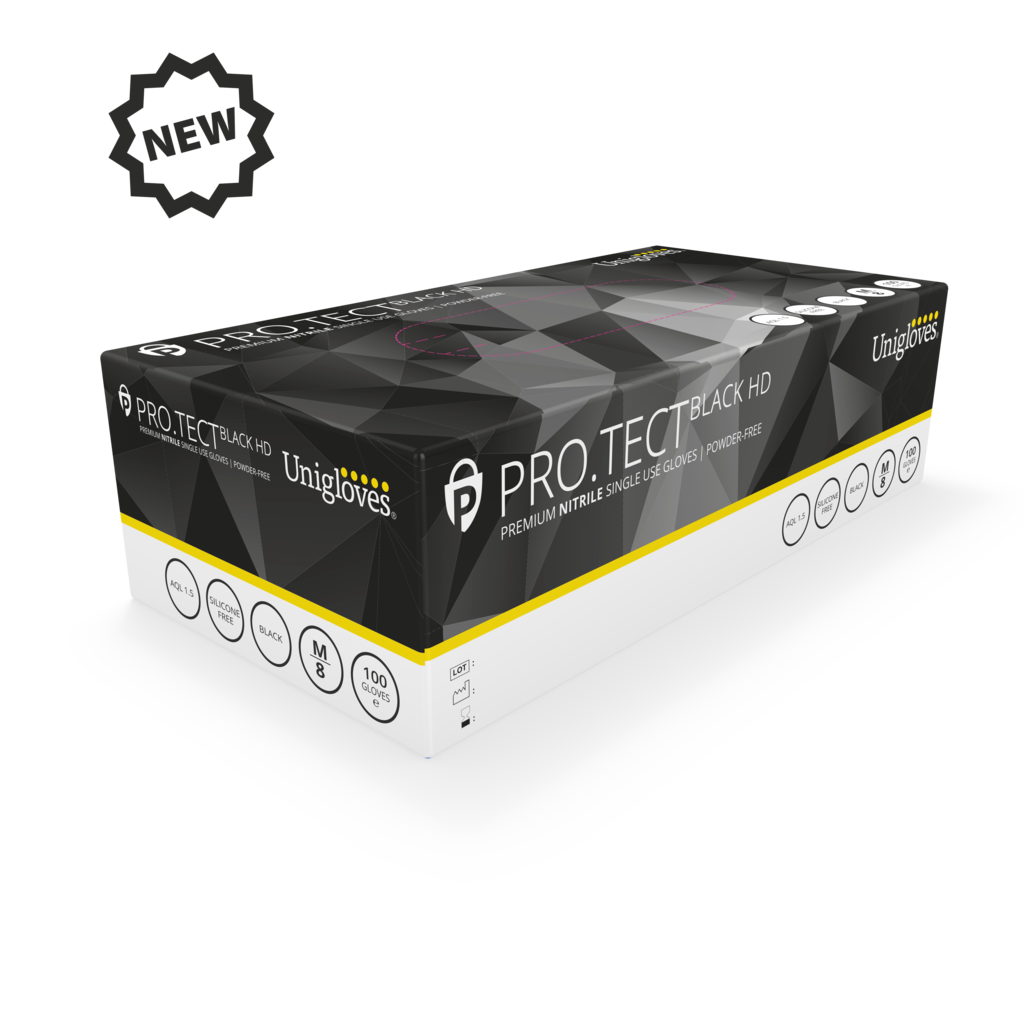 Joining the range of silicone-free gloves are the PRO.TECT Green HD and HD+ and the PRO.TECT Black HD and HD+, the HD+ being an extended cuff (300mm) version.
Designed for a wide range of industrial environments requiring protection against chemicals such as the automotive manufacturing, maintenance and repair, engineering, maintenance, pharmaceutical and laboratory work, the new disposable gloves provide a range of wearer benefits including:
Chemical resistance - against paints, oils, grease, brake fluids, thinners and Diesel, the PRO.TECT HD and HD+ have been independently tested for chemical permeation by SATRA and certified to EN 374
Ultra-Heavy Duty Construction – makes the gloves tough, durable and long lasting
Textured palm and fingers - provides improved grip, particularly when working in wet or oily conditions
Silicone free formulation means no finger marks on metal or glass surfaces
Ambidextrous fit - you don't have to split a pair to replace a damaged glove
High Wearer Comfort – nitrile formulation conforms to the hand for close, natural fit allowing for greater flexibility and dexterity
Beaded Cuff – provides extra strength when putting the gloves on and prevents liquid roll back
Meets AQL 1.5 – medical standard for pinholes
Designed to be stronger and to offer even greater durability and lifespan, the new PRO.TECT HD and HD+ models join the PRO.TECT Orange HD, PRO.TECT Blue and PRO.TECT Black in addition to PRO.TECT Latex HD.
Available in a range of sizes from X Small to X Large, the new models are also available in two different lengths – 240mm or 300mm versions (HD+).
"The new Green and Black HD and HD+ gloves are a great addition to our increasingly popular PRO.TECT range. The added durability and chemical resistance not only enhances protection for workers but provides excellent cost-in-use benefits compared to traditional non-nitrile single use gloves on the market which tear easily," said Donald Gillespie, marketing director of Unigloves.
As part of the launch of the enhanced PRO.TECT range, Unigloves is offering free HD and HD+ samples to enable companies to experience first hand, the benefits offered.
For more information and to secure your free sample/trial of PRO.TECT gloves, please visit: https://info.unigloves.co.uk/request-a-sample call 0800 049 6602, or email enquiries@unigloves.co.uk.
OTHER ARTICLES IN THIS SECTION