ARTICLE
Environmentally-friendly, food approved glove
23 May 2019
Single use hand protection specialist, Unigloves, has enhanced its food range with the launch of the Unicare Flex Nitrile disposable glove.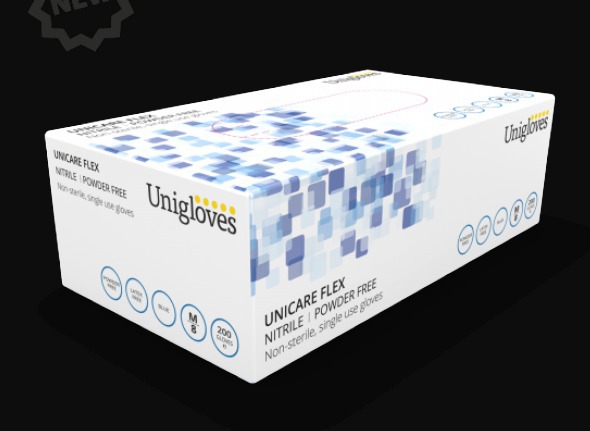 Food handling approved, the new blue glove – http://bit.ly/2W9PR5f – has been designed to provide high levels of comfort and performance across a range of food handling environments. It is also said to be more environmentally friendly than traditional gloves on the market as it uses 50% less packaging and less raw materials during production.
Notable for its relative strength, durability and consistent grip in dry and wet environments, in addition to good chemical resistance and high levels of puncture resistance, the Unicare Flex Blue is available in sizes S to XL. Delivering the same durability and superior level of protection as traditional gloves, Unicare Flex Nitrile Blue is said to offer increased tactile sensitivity, tear resistance, and a more comfortable fit. It is fully approved for use against all food types, including fatty foods.
Environmental responsibility has also been designed into the disposable range by using significantly less natural resources in their manufacture and packaging.
To help companies identify the positive impact of incorporating Unicare Flex Blue into their food handling and hygiene processes, Unigloves has created a new Unicare Flex Calculator. The calculator – http://bit.ly/2OYT2KD – enables companies to see how much positive impact on the environment using Unicare Flex Nitrile can have by factoring in packaging, natural resources, CO2 levels and annual glove usage.
"The new Unicare Flex Nitrile disposable glove is a superb addition to our range of disposable food industry gloves. Highly comfortable and ultra lightweight, it is also surprisingly durable when it comes to tear resistance giving excellent cost in use benefits for a 2.2g product," says Unigloves' marketing director, Donald Gillespie.
"It also scores extremely well when it comes to its environmental credentials. Over 150 billion disposable gloves are sold annually worldwide, with the United Kingdom and Europe representing approximately a third of the total demand.
"Converting to efficient packaging, Flex gloves could have a significant positive impact on the environment while also increasing supply chain efficiency. The packing of Unicare Flex Nitrile gloves significantly reduces the use of natural resources and printing materials, energy, fuel, waste, storage space and administrative time and costs," adds Donald.
To find out more about the new Unicare Flex Blue visit: http://bit.ly/2W9PR5f
OTHER ARTICLES IN THIS SECTION