ARTICLE
Drawing a line under workplace accidents
30 April 2018
Following the recent spell of bad weather, Arco, the safety expert, is calling on businesses to ensure their sites are still adhering to workplace safety regulations.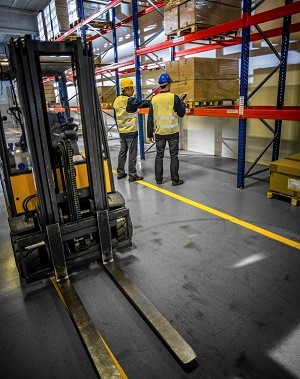 Cold weather can have detrimental effects on road markings, making warehouses, carparks and loading bays extremely hazardous. To assist businesses looking to reinstate both internal and external road lines, however, Arco is offering a complete line marking solution.
The Health and Safety Executive reports over 5,000 accidents involving transport in UK workplaces every year, with around 50 of these incidents being fatalities.[1] It is also reported that forklifts are involved in about quarter of all workplace accidents.[2] Anyone working in the vicinity of these vehicles, or anyone using forklift trucks, could be at risk of injury.
To prevent such accidents, line marking is critical and Arco has a range of products including specialist paints, marking tape and stencil sets, enabling this is to be done quickly and efficiently, resulting in optimum safety for everybody on site.
When line marking the working environment, careful consideration should be given to where this is placed, as well as the surface preparation and paint type used. Questions companies should ask themselves when implementing this system, include:
Volume of traffic in the area?
Will it be wet or slippery?
Are chemical spillages likely?
What is the surface material?
Is interior or exterior marking required?
Well-laid line markings on well-prepared floors should last a number of years and implementing a clear line marking system, using Arco's quality products, will improve safety in the workplace and reduce preventable accidents.
OTHER ARTICLES IN THIS SECTION