Increased tamper protection
18 October 2017
The AZM201 solenoid interlock from Schmersal with its handy door handle actuator, which has already been used in many swinging safety doors, is now available with built-in RFID technology.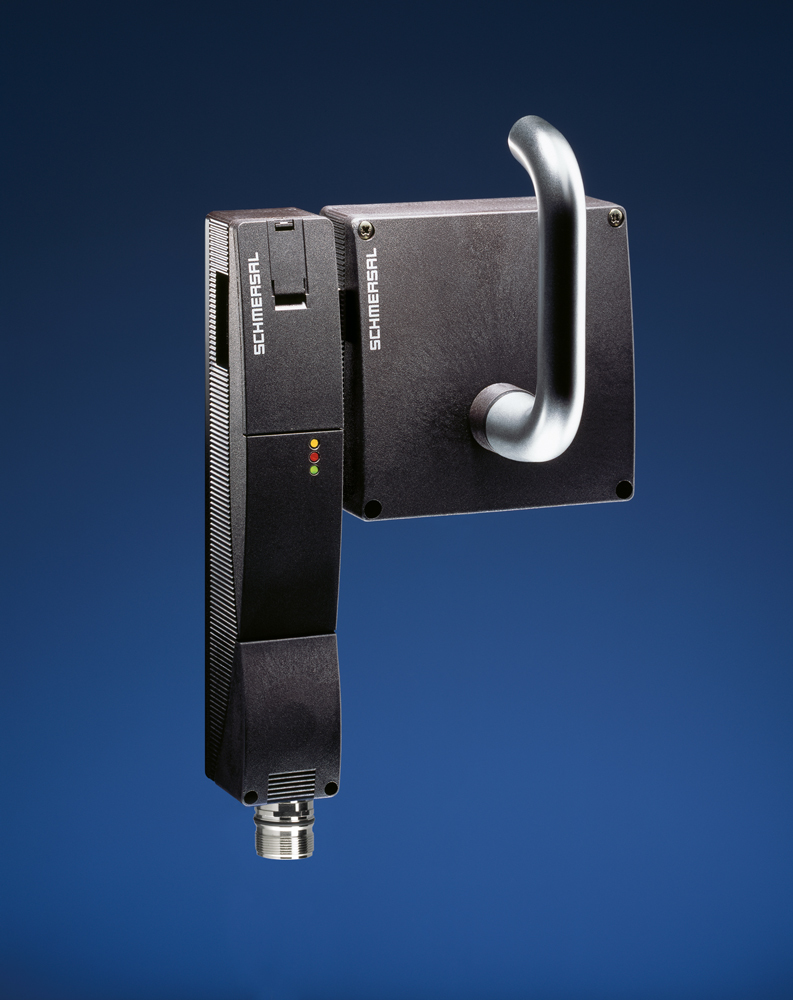 RFID allows a coding level of "high". This means the interlock now offers increased tamper protection in accordance with the requirements of DIN ISO 14119. At the same time, the AZM201 solenoid interlock can forward extensive diagnostic information to a higher-level controller to enable preventative maintenance in line with Industry 4.0.
The AZM201 is favoured by many users as the built-in ergonomic door handle actuator, which is normally fitted at handle height, saves on a separate door handle. It is suitable for all standard aluminium profiles with a width of 40 mm and can also be complemented by an emergency exit release fitted on the inside. If necessary, the solenoid interlock can also be supplied with a bar lock which offers increased stability and is therefore suitable for larger safety doors.
In the new version of the AZM201, the RFID technology makes it possible, among other things, for the user to choose between three types of coding and thereby determine the appropriate level of anti-tamper safety: In the basic version, the AZM400 accepts any suitable actuator. A second version only accepts the actuator associated with the teach-in process during initial activation. With a third version, this teaching-in process can be repeated as many times as required. A release block of ten minutes prevents an actuator from being replaced in the short term and enhances anti-tampering safety as a result. In this way, the user can choose a coding version that best suits his needs and also determine the level of anti-tampering protection.
The built-in electronics in this electronic solenoid interlock allow comprehensive diagnosis of the operating status. The operating status is indicated by the diagnostic LEDs which are clearly visible on the device. The operating status is also shared via a diagnostic cable.
At the same time, the AZM201 has an optional serial diagnostic cable. This means the solenoid interlock can be connected with up to 31 safety sensors and interlocks in series. The resulting "collective line" of diagnostic information is fed into a serial diagnostic gateway for evaluation. Each of the safety sensors and solenoid interlocks connected loads status signals, warning and error messages to the connected PLC, from which control commands, e.g. to unlock a solenoid interlock, can be issued to the devices connected in series. The advantage of the system lies not only in the significant reduction in cabling required, but also in the transmission of useful data to the higher-level PLC. This significantly reduces machine downtimes.
01684 571980
uksupport@schmersal.com
www.schmersal.co.uk
OTHER ARTICLES IN THIS SECTION