ARTICLE
Stairway safety solution for Stoke City FC
16 August 2017
As one of the Premier League football clubs committed to complying with the requirements for disabled access set out in Accessible Stadia, Stoke City has chosen stairway evacuation chairs supplied by Evac+Chair to provide safe means of exit for supporters unable to use stairs in an emergency.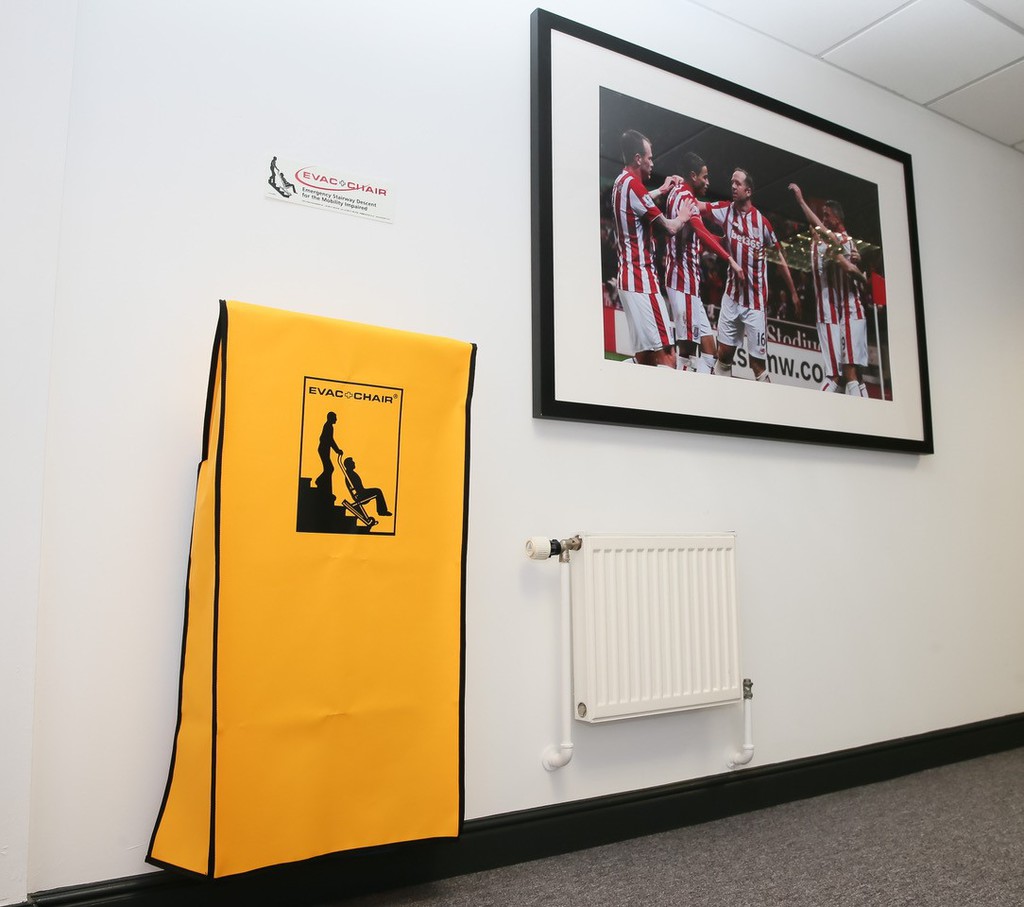 The Evac+Chairs are among the new facilities being introduced at Stoke City's bet365 Stadium as it undergoes its first major re-development since being built in 1997. The development adds 1,800 seats to capacity and will enable the Premier League club to provide additional and improved viewing for wheelchair users.
Access provision also includes ensuring a safe means of evacuation in an emergency or in situations where lifts cannot be used.
Stoke City's health & safety manager Rob Killingworth said: "Our chosen emergency evacuation method was the use of evacuation chairs so, about two years ago, we visited the Facilities Show to see what was on the market. We looked at different manufacturers, including Evac+Chair and, after some in-depth conversations, we obtained quotes. Evac+Chair offered the best solution in terms of design and quality combined with the best value for money so we ordered 18 chairs."
The Evac+Chair model range offers a universal solution for safe stairway descent during an emergency. The model chosen by Stoke City is the 300H which has a 182kg carrying capacity and is designed for one-person operation, avoiding the need for heavy lifting or manual handling. British made, all Evac+Chairs carry the CE mark (class 1 medical device) and also undergo independent type testing.
Although all Evac+Chair equipment is designed to be easy to use, the company always recommends evacuation chair training and offers two levels. Stoke City opted for the Evac+Chair Key Trainer Masterclass. This is a full-day, certificated, 'train the trainer' course, enabling key staff to achieve the required level for formal certification, which qualifies them to provide in-house training to other staff members.
With development work well underway on the bet365 Stadium, the new facilities will be ready for use in August 2017. By that time, a further 21 Evac+Chairs will be in place, with staff trained in their use.
OTHER ARTICLES IN THIS SECTION