Alpha Solway launches Chemsol HG Lite
11 July 2017
Chemical protective clothing manufacturer Alpha Solway has launched a new range of lightweight, flexible and chemical resistant clothing – Chemsol HG Lite.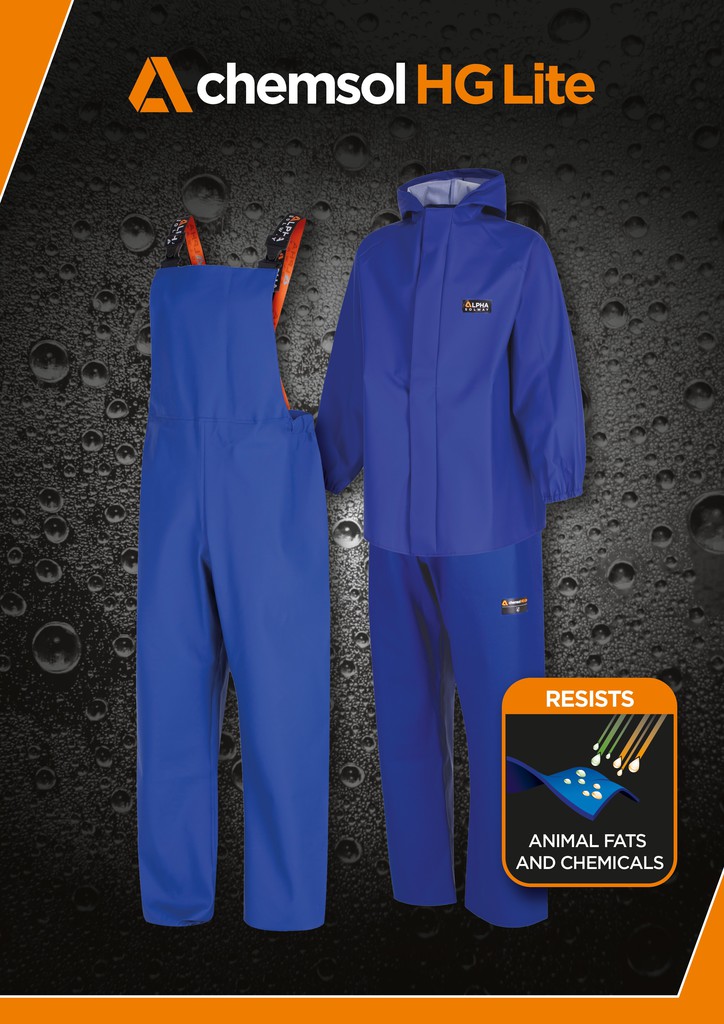 Following an extensive research and development project with end user companies across a range of industry sectors, in particular food and drink manufacturing, industrial cleaning, oil and gas and agriculture, the new range – featuring jacket, trouser and bib and brace - has been developed specifically for factory wash down applications.
Manufactured from a specially formulated material with an enhanced anti-bacterial coating to avoid mould build up, the new range offers long-lasting chemical protection and resistance to chemicals, animal fats, greases and food oils.
Certified to EN 14605, the clothing is tested to perform against a wide range of industry chemicals. It features stronger stitching and contains high frequency welded seams for enhanced waterproof protection.
Lightweight and comfortable at only 305gm2, the clothing is made from a soft and durable PVC/PU fabric. Key design features include a zip and Velcro closure for added protection, as well as a drawcord closure on the hood to help retain head protection.
"Often, workers that carry out wash down activities are only provided with waterproof protective clothing or clothing that does not provide any chemical resistance. By developing and launching Chemsol HG Lite we have been able to combine comfort, impermeability and protection from chemicals and animal fats in one solution," said Nick Moore, product development director of Alpha Solway.
OTHER ARTICLES IN THIS SECTION