Easily create GHS/CLP signs
28 September 2016
Create CLP signs and labels in any colour or shape on-site and on demand.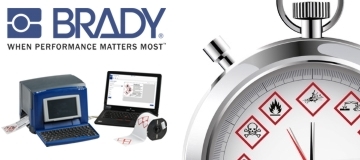 June 2017 marks the end of the European Union's transitional period for products already in the supply chain required for CLP (Classification, Labelling and Packaging) chemical labelling. From here, all dangerous chemical substances and mixtures must carry a predefined CLP label.
Brady's quality printing systems provide companies with compliant CLP label templates and symbols, creating a flexible and easy to use in-house CLP label printing solution. One Best Practice solution is using a sign printer like the Brady BBP 37 Multicolour and Cut Sign & Label Printer, that offers outstanding colour and cutting capabilities to quickly create a safer, more productive facility. The printer's simple, automatic label setup and intuitive touchscreen enable you to make signs on demand and on-site in any colour and shape!
OTHER ARTICLES IN THIS SECTION