ARTICLE
Eastern promise
02 March 2016
Over the past two years, HLC Wood Products has expanded to produce 200,000 wooden pallets a week.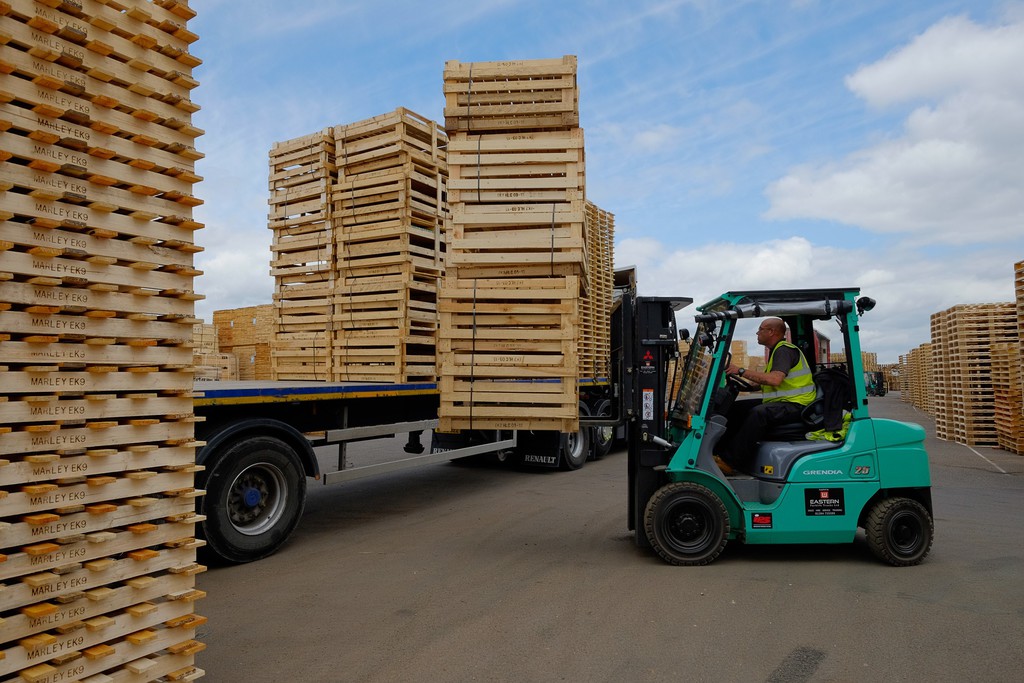 To keep up with demands, the company introduced 13 new Mitsubishi forklift trucks bringing the firm's fleet to 34. The GRENDiA flagship models were supplied locally by Eastern Forklifts (via Red Diamond Distribution).
Managing director of HLC Paul Lewis said: "We have learnt from previous experience with Eastern that not only are they quick to respond to any issues – even more importantly, things happen when Eastern say they will."
It was important for HLC that they went with a local supplier, rather than a large multi-national - not only to support their local economy - but also their proximity means that Eastern are just a phone call away and can be proactive about preventing down time.
Paul continued: "Eastern ticked every box, not only did they provide the perfect service package, they also took an excellent truck and made it an even greater by customising it to fit the task and the operator perfectly."
For a company that needs to carry wide, uncompromising loads of wood, HLC were very impressed with the visibility of the GRENDiA, both in terms of the operator's view but also the visibility of the trucks themselves. Part of Eastern's customisation package for them was the fitting of rear and forward facing red spots. The very bright LED lights project a beam in the path of the truck to warn pedestrians and other drivers of its approach. The forward facing spots also assist with fork positioning.
The GRENDiA's Belly Seal reduces engine noise and prevents the cyclonic effect, where dirt and dust are drawn into the engine and recirculated into the working environment. Preventing this prolongs engine life and keeps the environment quieter and much cleaner for stock, shelving and staff.
Its green credentials are also boosted by the three-way catalytic converter, which dramatically reduces harmful NOx emissions, while the GRENDiA speed limiter enhances safety on the busy site while also delivering fuel efficiency.
"The red spot feature was universally greeted with approval from a safety perspective, but the drivers also reported that the cabs were more comfortable and control layout was really good," HLC operations manager David Mercer said.
He added: "The operators also liked the fact that the trucks are weatherproofed, keeping them warm and dry, which is also great for productivity as it makes moving loads between the indoor spaces and out a much smoother operation. In fact, we have measured a marked increase in productivity overall, partly down to the modified double pallet handlers that Eastern fitted for us."
OTHER ARTICLES IN THIS SECTION