ARTICLE
Alarm management software
18 January 2016
M.A.C. Solutions has added a new software application to the ProcessVue Alarm Management software suite that incorporates a Master Alarm Database, a set of alarm rationalisation tools and comprehensive Management of Change functionality.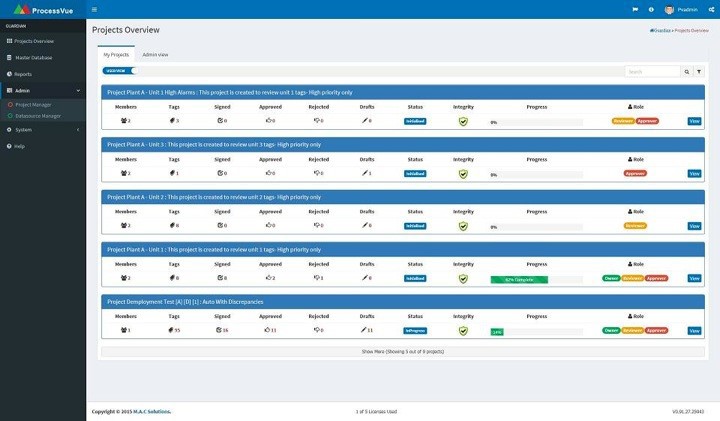 The software, ProcessVue Guardian, is said to be an essential part of the Alarm Rationalisation process for helping companies achieve full compliance with alarm management standards. The software, which is based on SQL with a web-based interface, allows users to create and manage a Master Alarm Database (MADB) and to create specific workflows in order to improve team communication and collaboration across a single or multiple plant networks.
The software also provides functionality for producing full audits and change control traceability, as well as full version numbering and 'roll-back' to previous revisions. In addition, ProcessVue Guardian can be used to deploy the MADB to plant Distributed Control Systems (DCS) or other similar control systems.
Target sectors include power stations, utility, oil & gas, petrochemicals, chemicals, pharmaceuticals, and food processing.
Tim Ricketts, ProcessVue Guardian Product Manager at M.A.C. Solutions, said: "Whilst our ProcessVue Analyser and SOE software allows users to identify bad actor behaviour and requirements for alarm rationalisation, ProcessVue Guardian incorporates all the other functionality that users require to complete the full alarm management lifecycle, i.e. alarm rationalisation tools, a Master Alarm Database and Management of Change functionality. ProcessVue Guardian can be used as a standalone tool separate to the other products in the ProcessVue suite."
OTHER ARTICLES IN THIS SECTION