New RTITB CourseBuilder to revolutionise Driver CPC training and deliver ROI
20 July 2015
A new CourseBuilder from leading Driver CPC Consortium, RTITB, enables training providers and employers to create Driver CPC courses, uniquely tailored to their customer and business needs, without the requirement for their own JAUPT* centre approval.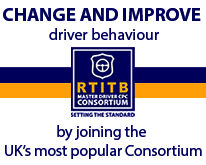 An estimated £205.2million was spent during the last 5 year cycle of Driver CPC (Certificate of Professional Competence) training, based on a £60 spend for each of the 3.42million attendees. "This staggering amount of money was spent by drivers and employers in our industry on training that was largely standardised and therefore often did not provide return on investment," adds Laura Nelson, Managing Director of RTITB.
Available to members of RTITB's Master Driver CPC consortium, the extensive CourseBuilder library currently covers 110 topics including: optical driving behaviour, vulnerable road users, planning for efficiency and driving style, which all aim to change driver behaviour.
Topics are delivered through a wide selection of highly engaging and interactive sessions. Modelled on best practice learning theory, no session lasts longer than 35 minutes, to optimise driver attention and engagement. Eleven topics are selected from the CourseBuilder library to create the personalised seven hour Periodic Training course.
"We have successfully begun to roll out a Driver CPC training system that challenges the status quo," explains Laura Nelson. "It provides those delivering training with highly relevant materials and those attending or paying for the training an interactive experience with added business benefit."
Course materials can be created to suit the branding of the company delivering or receiving the training and can include an optional assessment (taken outside of Periodic Training hours), which allows measurable learning outcome with real time capture. Each 35 minute session can be delivered in a variety of ways including; quizzes, video led discussion, working party style discussions and case study based learning.
"We understand that set courses don't meet everybody's requirements and not all businesses can afford to develop courses for each customer," she continues. "RTITB's CourseBuilder aims to make training more personal and engaging, but most importantly it aims to change driver behaviour. This helps to ensure driver's personal road safety and enhances business operations such as customer service and compliance; both of which ultimately impact bottom line profits."
Employer members of the Master Driver CPC Consortium will also find the 35 minute sessions beneficial independently to Driver CPC as they can be used as stand-alone training tools. A short refresher training session is often required, in support of an internal safety campaign or in the event of an incident at work; the individual CourseBuilder sessions are ideal for this.
With 150 members, the Master Driver CPC consortium is the UK's largest and has been at the centre of Driver CPC Periodic Training over the past 5 years. Its members delivered a staggering 1.8 million hours to 250,000 attendees, making it the biggest contributor to the nation's overall target.
"We have revolutionised our approach to Driver CPC to help improve company training and bring something fresh to the thousands of drivers seeking Driver CPC Periodic Training. We are offering an alternative to employers looking for a different approach to Driver CPC for the next 5 years," says Laura Nelson "The Master Driver CPC consortium will continue to set the standard for Driver CPC Periodic Training in the UK."
To download a list of all the topics and an example of the new material available, visit www.rtitb.co.uk/cpcinfo. For more information about the CourseBuilder or joining the Master Driver CPC consortium please contact +44(0)1952 520207.
*Joint Approvals Unit for Periodic Training
OTHER ARTICLES IN THIS SECTION