ARTICLE
Bringing new life to maternity unit
02 July 2015
Altro XpressLay safety flooring has provided a solution for a busy maternity unit at Southmead Hospital, in Bristol.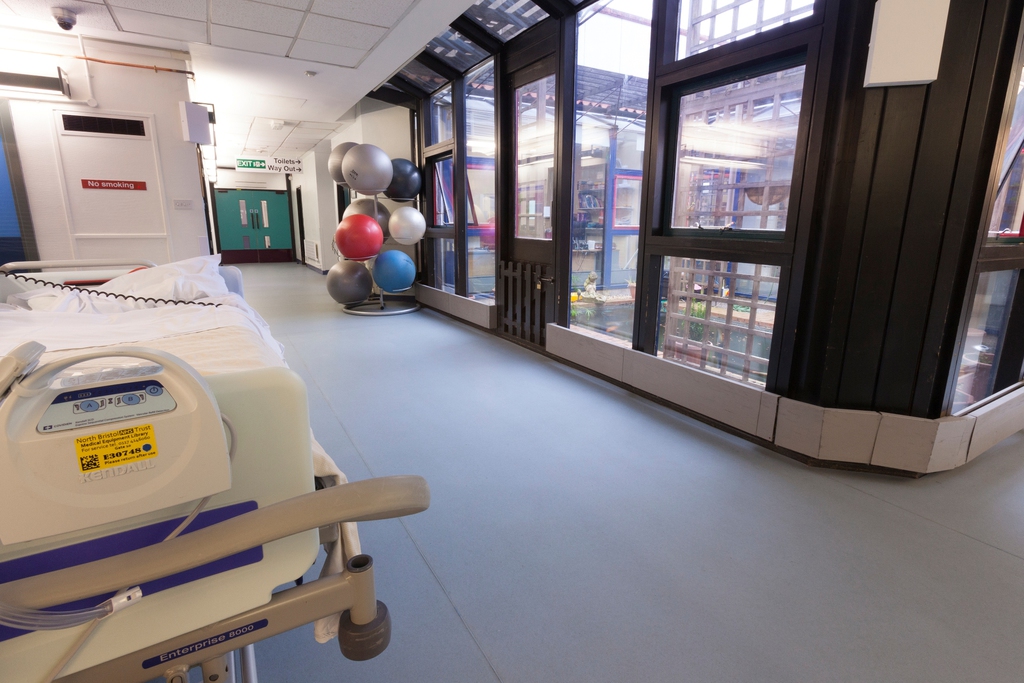 The 24/7 unit contains three post natal wards, where mothers are helped to establish feeding and advised on how to care for their babies, before going home. This non-stop environment makes refurbishment of the unit a challenge, as downtime is hugely disruptive to the smooth running of the service. So, when the flooring in the corridor on Quantock Ward needing replacing, the Estates Team knew they had to find a quick, hassle-free solution.
The hospital's Building Officer, Mike Poustie, said: "When we decided to replace the floor in Quantock ward's corridor, we needed to find something that could be laid without any closure, obstructions, dust or potentially harmful chemicals or solvents.
"The floor was originally fitted with lino, which was laid with two margins of terrazzo, which was wet-laid in the original 1930s construction of the unit.
"Then some twenty years ago the lino was replaced with a slip-resistant flooring which proved difficult to clean and there were staining issues with the old solvent based adhesive leaching into the vinyl. Subsequently, a wood-effect heterogeneous flooring was laid but the staining problem reoccurred.
"So the new floor needed to tick a lot of boxes for us; safe for staff, patients and their relatives, easy to clean, resistant to staining, quick to lay, long-lasting, great looking, and an installation that was completely safe for the vulnerable people on the ward."
Altro XpressLay is the world's first adhesive-free, truly sustainable safety floor. It is installed using a tape system instead of adhesive, so can be installed without a surface DPM. It can be easily removed post-installation, re-used elsewhere and then at the end of its life be recycled.
The range boasts 42 colours, featuring bright and subtle, sparkle-free designs and decorative chipped options to give you a huge selection to choose from. Its shared colour palette with Altro Walkway™ 20 enables you to combine use of both ranges to suit the application. Altro Easyclean Maxis PUR™ Technology ensures the product stays looking good long-term.
Like all Altro safety flooring products, Altro XpressLay offers sustained slip resistance for the lifetime of the product, keeping your risk of a slip or fall to just 1 in a million.
The new flooring was laid by Admiral Flooring. Managing Director Matt Bundell said: "We recommend Altro XpressLay a lot to our customers because it is so quick and safe to lay, while still being a long-term solution, and great looking too. It was the ideal product for Southmead Hospital because closure of the ward was not an option.
"To ensure we didn't disrupt the ward, we laid the floor in 2m-wide by 2.5m-long sections directly on top of the existing floor, using Altro LooseLayTM double-sided tape to affix it. We carried the flooring up the walls by 100mm, to cover the existing product. The corridor is 70m long and it took us 2 weeks to complete.
"Altro XpressLay is so easy to install. There is no uplifting of the base flooring or vinyl, no adhesives, no dust, no stoppage or disruption. It would have taken us at least 6 weeks to lay a conventional vinyl flooring. And if any sections need to be replaced in the future they can be easily cut out and a new one dropped in."
Mike Poustie added: "We are very pleased with both the installation of the flooring and the end result. It was a simple process that had a minimal impact on the running of the ward. I would recommend it to anyone who needs a quick, hassle-free solution, without compromising on quality or aesthetics."

OTHER ARTICLES IN THIS SECTION