ARTICLE
Keeping hands safe
29 June 2015
Dickies, in collaboration with Kong, have carefully developed a new range of safety gloves, including Impact gloves with a glove to suit demanding environments and tasks.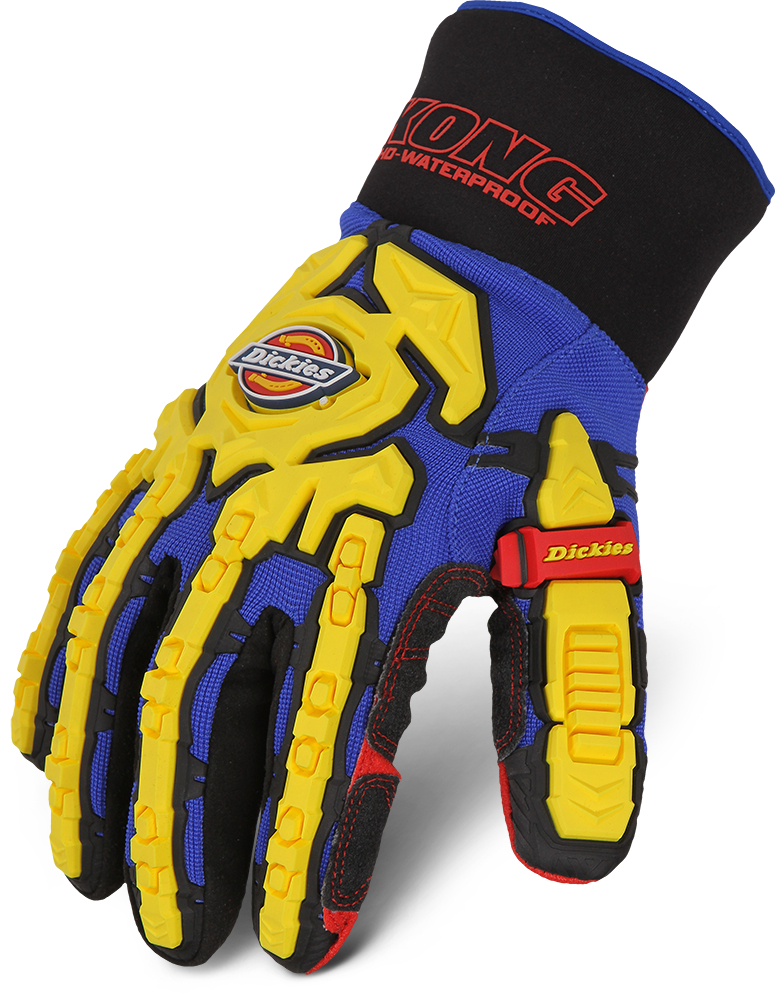 For decades there have been major advances in the improvement of safety products. With respiratory protection, for example, fit testing has led to better and more suitable facemasks.
Eyewear has also seen a great deal of evolution from the days of basic traditional "safety specs". Adjustment in temples, nose bridges and even the means of attachment itself all continually evolve, improving fit and comfort along with the all-important lens technology, including prescription options.
Footwear has seen advancements in fit, comfort and functionality resulting in reductions in slips, trips and falls. Better-designed sole units, insole technology and now innovative closure systems all make the worker's life safer and more practical.
Gloves now are improving dramatically, from very simplistic polka dot work gloves or the traditional "rigger" gloves, to highly engineered ergonomically 3D designed items with multi measurement points. Hand and finger incidents can account for anywhere from 50% to 70% of work related injuries which make this area perhaps more important than others when it comes to reducing injuries and accidents at work.
Obvious injuries like bruising, cuts and crushing are common in industry, but there are other less obvious injuries caused, for example, by the continual use of power tools like drills or jackhammers, which in extreme cases can cause hand arm vibration syndrome. This is an irreversible but avoidable condition with nerves, blood vessels, and joints in the hand and wrist all possibly affected, often resulting in a permanent numbing or tingling sensation along with a loss of grip, strength and dexterity in the hand for everyday life. Outdoor workers will compound this even more and run the risk of it being aggravated due to the cold and damp.
Workers in all walks of life and industries depend on their hands to perform their tasks and to earn a living. We cannot work without our hands; injuries to the hand mean the loss of a valuable, skilled employee and a significant knock-on increase in costs. Serious hand accidents may even lead to the end of a career and having to live with a debilitating injury and financial penalties on the part of the employer. Consequential unwanted negative publicity can put a company's reputation at stake.
The Dickies glove range is intended to offer something across a range of industrial sectors: construction, engineering, automotive, utility, mining and oil & gas. Dickies Impact gloves are manufactured from carefully selected materials om a bid to provide optimum safety, comfort and dexterity.
To minimise metacarpal injuries, Dickies Impact gloves have shock-absorbing TPR (thermal plastic rubber) ergonomically added as an exoskeleton to the back of the glove and knuckle areas to minimise bruising and breaks. The same TPR is added to the fingers and thumbs to provide protection against pinching and impact bruising.
Depending upon the intended end use of the glove, padding and shock absorbent material, or Duraclad Rope Channel reinforcement, can be added to the palm. Other materials, such as foam nitrile, allow for a strong grip. An EN 388 cut level 5 knit (ANSI/ISEA Level 4) can add additional protection. Waterproof variants are also available, as is a patented Diamond clad Silicone fused palm (Patent D568003), for the ultimate grip on wet and oily objects. High visibility options are also available in the range.
The most incredible part of these Dickies gloves however is the fit and comfort, which is immediately apparent when trying on a Dickies impact glove.
Dickies gloves are highly engineered, ergonomically 3D designed items with multi measurement points and when pulling on via the specially designed TPR Cuff puller tab in some variants, the embracing Tricot or Cut Resistant liner welcomes the hand. Some models have an adjustable Teflon treated Neoprene Cuff or the Teflon treated synthetic suede fourchette. These gloves not only make the job safer but also make it easier and improve the quality of the job making them a sensible investment.
OTHER ARTICLES IN THIS SECTION