ARTICLE
Vehicle access control
19 May 2015
At Safety & Health Expo,Traka, the key and asset management specialist will be showcasing its solutions that facilitate greater standards of health and safety, particularly in the manufacturing, retail and distribution markets.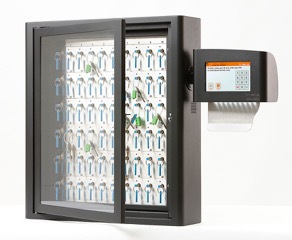 Traka's material handling equipment products can control who can get access to, and drive, fork truck vehicles such as High Reach, Counter Balance, LLOPS and Cherry Pickers. Whether its an organisation with over 20 trucks or a smaller fleet, Traka representatives will be on hand to discuss ways in which you can cost-effectively ensure compliance with health and safety legislation.
Traka will also be demonstrating the benefits of its loading bay solution, DockSafe. The drive-off prevention system is designed to stop vehicles prematurely leaving the Goods Out bay in busy distribution centres.
Steve Bumphrey from Traka said: "Our products are known for their security benefits. Our asset and key management systems offer greater accountability and restrict people from accessing sensitive areas of a business. However, our solutions also offer significant benefits for ensuring Health and Safety legislation is adhered to, particularly within the manufacturing, retail and distribution markets. The Safety and Health show allows us to demonstrate our capabilities in making workplace environments safer, with minimum disruption."
Stand P2125
OTHER ARTICLES IN THIS SECTION