Food-safe conveyor
18 February 2015
With food automation making up such a large slice of Pacepacker Service's pick, place and packing business, the equipment manufacturer recently specified a UPM Conveyors food safe IP69K certified conveyor system, referred to as 'SYSCON', as part of a Cartesian pick and place robot solution for handling packs of fresh food.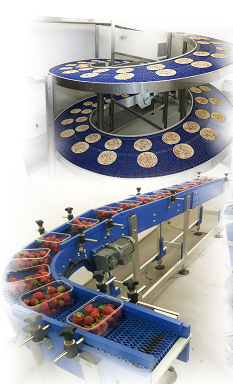 The simplistic 'groove' design with side channels made from High Molecular, Weight Polyethene (HMWPE), appealed to Pacepacker, because it can be deployed in hygienic food processing areas.
Suitable for transporting unpackaged primary products, this HMWPE conveyor caters to every type of product handling requirement, from raw fish, meat and poultry to sliced vegetables, biscuits and confectionery and fresh and frozen produce.
When assessing conveyor options for food manufacturers, Pacepacker's business development manager, Paul Wilkinson, cites flexibility, robustness and food safety as key criteria. "This food-grade conveyor from UPM Conveyors is one of the few systems on the market that meets all of these specific needs and allows us to continue giving customers trouble-free and application-appropriate choices."
OTHER ARTICLES IN THIS SECTION