ARTICLE
Machinery safety program
13 February 2015
To help manufacturers identify best-in-class safety system integrators, Rockwell Automation has created the Machinery Safety System Integrator program.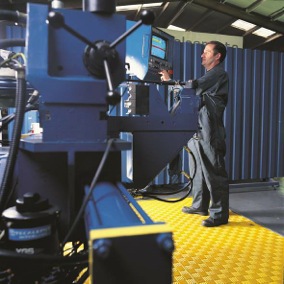 "A recent Aberdeen report found best-in-class organisations are 81% more likely than low performing organisations to leverage outside services to design and install compliant machinery safety solutions," Mark Eitzman, manager of safety market development, Rockwell Automation, said.
"The challenge comes in finding and vetting the most capable provider for the job. Rockwell Automation created the Machinery Safety System Integrator program to ease that process and connect manufacturers to machinery safety system integrators they can trust."
Program candidates must meet stringent requirements and complete a rigorous, months-long assessment and education process. Only existing Rockwell Automation Solution Partners or Recognised System Integrators can qualify for the program. Candidates must have three to five years of demonstrated machinery safety experience. Rockwell Automation recognises third-party certification from industry-accepted organisations, such as TÜV or exida.

Upon meeting these initial requirements, Rockwell Automation machinery safety experts conduct a candidate assessment to determine if additional training or experience is required. The candidate's safety engineers must then complete training modules on topics, such as global safety standards, safety risk assessment practices, and different types of safeguarding applications. Lastly, the candidate must submit a machinery safety project to ensure it demonstrates methods consistent with global standards.
For more information contact your local Rockwell Automation sales office.

OTHER ARTICLES IN THIS SECTION