Ladder safety scheme
08 December 2014
Workplace equipment supplier Slingsby has joined forces with the Ladder Association to run The Ladder Exchange Scheme which aims to eradicate dangerous ladders from UK workplaces by offering substantial discounts when they are part exchanged for new ones.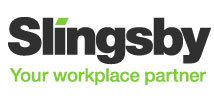 The scheme is open to all workplaces and runs until 31st December 2014.
Slingsby marketing director Lee Wright explains: "Falls from height still cause huge numbers of injuries, and even deaths, in all types of workplaces and a large number are down to ladders and stepladders that are not fit for the job. It's estimated that two million ladders are used every day in the UK, across all industries, by people who spend all day working at height through to those who might just occasionally change a light bulb.
"Every year The Ladder Exchange Scheme proves to be a huge success and results in workplaces handing over all types of truly frightening ladders that are often bent, wobbly and have rungs missing. Any workplaces with such a ladder can simply call us and we will help to exchange it for a brand new model."
OTHER ARTICLES IN THIS SECTION