Evacuation for all
19 July 2013
If you're responsible for ensuring your premises are safe from fire, you must make sure that everyone on the premises, or nearby, can escape safely if there is a fire.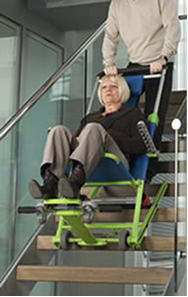 A person may be unable to evacuate their self, due to an injury or disability, pregnancy or a medical condition which makes it difficult to take the stairs.
Evacusafe's Tracked Evacuation Chairs are designed to enable the safe and comfortable evacuation of mobility impaired people in such situations.
A built-in track system allows the chairs to glide effortlessly down stairs to safety, and they can be operated by just one able-bodied person.
OTHER ARTICLES IN THIS SECTION