Home
>
Hand protection for automotive industry
ARTICLE
Hand protection for automotive industry
09 August 2018
AUTOMOTIVE HAND protection specialists Unigloves has launched an enhanced range of single use gloves dedicated to the automotive sector.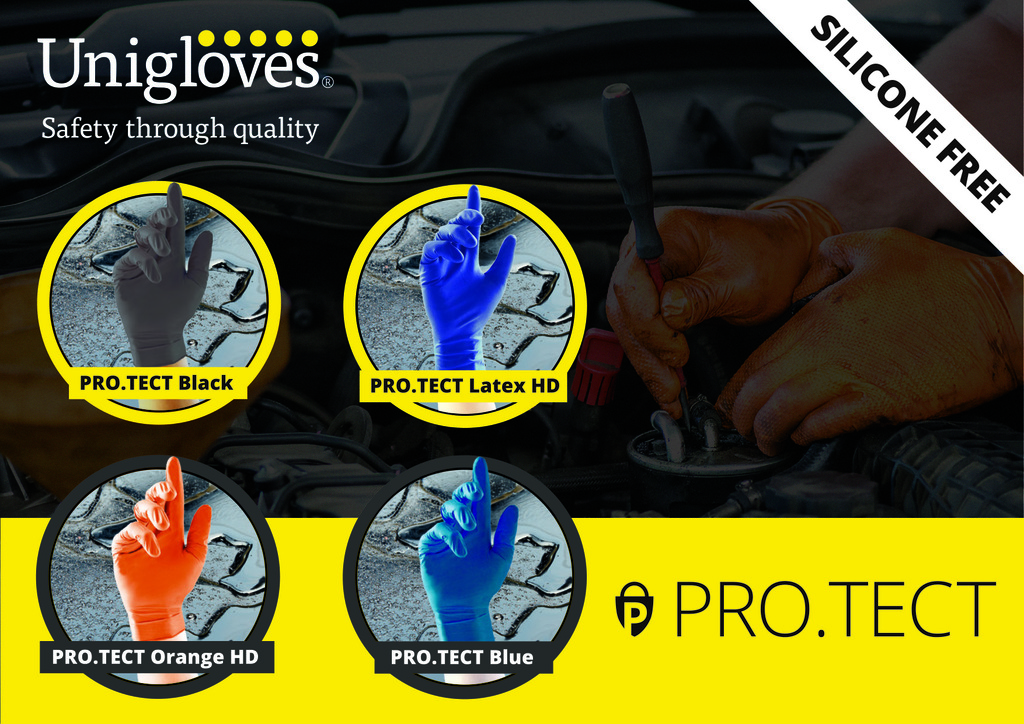 The new PRO.TECT Range features three silicone free, nitrile gloves to meet increasing demand for silicone free manufacturing environments, making them ideal for painting or bonding applications, removing the threat of glove-borne paint contamination and expensive re-working.
Designed to be stronger and as a result offer greater durability and lifespan compared to traditional gloves in the market, the new PRO.TECT range combines multiple features for workers in Tier 1 and 2 automotive sectors and across all aftermarket environments.
Joining the silicone free nitrile gloves - PRO.TECT Orange HD, PRO.TECT Blue and PRO.TECT Black, is a high quality, natural rubber glove, PRO.TECT Latex HD.
Wider user benefits of the new PRO.TECT Range include:
Chemical Resistance
Providing protection against paints, oils, grease, brake fluids, thinners and diesel, the PRO.TECT range has been independently tested for chemical permeation by SATRA and certified to EN 374*.
DiamondGrip Technology
Interior and exterior diamond texture for maximum grip, even when working with oils and greases, PRO.TECT Orange HD features an ergonomic grip and score maximum points for dexterity in international tests
The nitrile construction also means improved resistance to snagging and scuffs while offering high-level dexterity and comfort.
"Our comprehensive PRO.TECT Automotive gloves range combines performance, chemical protection, comfort and durability, offering a fantastic solution for workers right across the automotive sector," said Donald Gillespie, Marketing Director of Unigloves.
"Providing wearers with major benefits over traditionally used gloves, the fact they are more durable and resistant to scuffing and snagging means better cost in use for many situations," added Donald.
As part of the launch of PRO.TECT range launch Unigloves are offering free samples to enable companies to see first hand, the benefits it offers and trial the new products.
For more information and to secure your free sample/trial of PRO.TECT gloves, please visit https://unigloves.co.uk/pro-tect-no-obligation-trial/ call 0845 009 0083, or email enquiries@unigloves.co.uk.
RELATED ARTICLES
No related articles listed
OTHER ARTICLES IN THIS SECTION