ARTICLE
Rent-a-ramp solution keeps wheels in motion for warehouse development
03 September 2019
A short-term rent-a-ramp solution from Thorworld Industries has helped Nagel-Langdon avoid downtime issues during the construction of its temperature-controlled warehousing complex in Liverpool.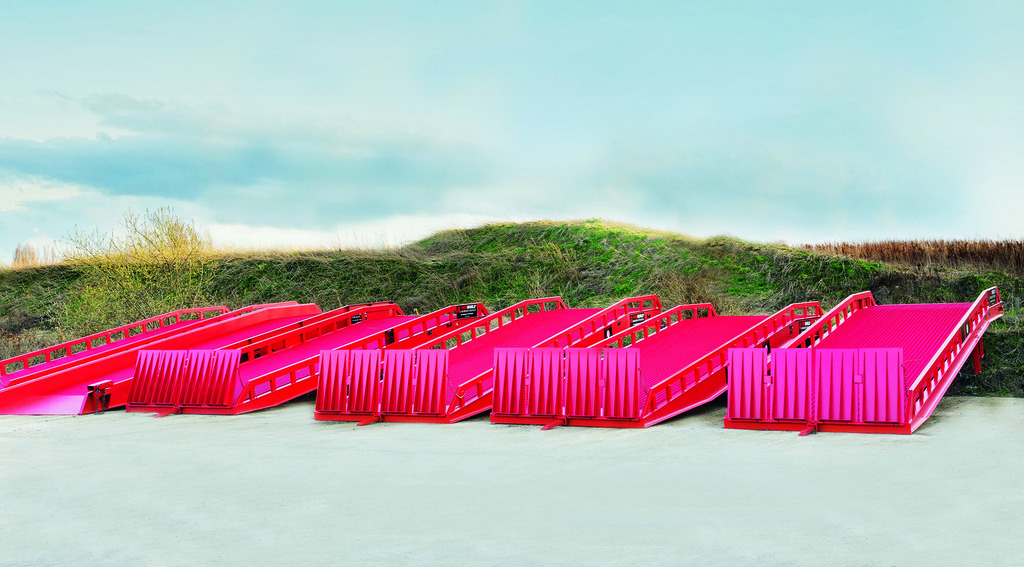 The facility is currently under construction to replace existing buildings in Knowsley. On completion, the state-of-the-art development will operate 15 dock leveller bays and have the capacity to handle over 5000 pallets using a computerised system to ensure product delivery via computerised HGV's.
Building work has progressed well, however the temporary electrical failure of an onsite scissor lift, used by the development's construction vehicles, created the potential to delay project timescales.
Whilst the lift was fully repairable, an electronic component had to be ordered from Denmark to remedy the issue. This led the development's consultant and project manager, Wilf Dickinson, to conduct an internet search to find a temporary solution, capable of limiting construction downtime.
"We contacted Thorworld Industries," Wilf explains, "who took accurate weights of the appliances being used and considered the suitability of the building's proposed access points. Using this information, a 'rent-a-ramp' solution was assigned to our project; one that could enable access for construction vehicles, fork lift trucks and mobile scissor lifts to the warehouse floor – an area which is 1.3m higher than the yard level.
"The ramp was delivered two days after making initial contact with Thorworld. Installation was rapid and efficient, and fulfilled by the delivery driver together with an on-site contractor.
"Within ten minutes of installation, the ramp was being used by all contractors on site, which assisted greatly in limiting any costly downtime."
Wilf goes on to say that all the contractors using the equipment did so with full confidence and that the ramp had clearly been constructed to a very high standard.
"The ramp did not require any further adjustments throughout its time on site," Wilf continues, "and without it, our construction programme and scheduled hand over could not have been delivered.
"As soon as the replacement part for the onsite scissor lift was delivered and fitted, we were able to arrange for the rent-a-ramp's return, which was reasonably priced and presented terrific value for money.
"My interaction with Thorworld has been excellent - from initial contact through to collection of the unit, and I would have no hesitation in recommending the company or its products to any other organisation."
Mark James, director of administration, quality and safety at Thorworld Industries has been pleased to hear about the positive and enabling experience Wilf and his team have had using the rent-a-ramp solution.
"Unforeseen issues within a development programme or loading operation can occur at anytime and for any reason, so being able to rely on a supplier that can temporarily keep the wheels in motion can prove reassuring and cost effective.
"It's great to know that on this occasion, we were that supplier, and that we were able to provide exactly what was needed in time, on price and with enabling results."
OTHER ARTICLES IN THIS SECTION