Cleaning machine copes with tough tasks
23 May 2019
A UK foundry has invested in a Nilfisk CR1500 ride-on combination machine that provides heavy duty scrubbing and vacuum sweeping functions.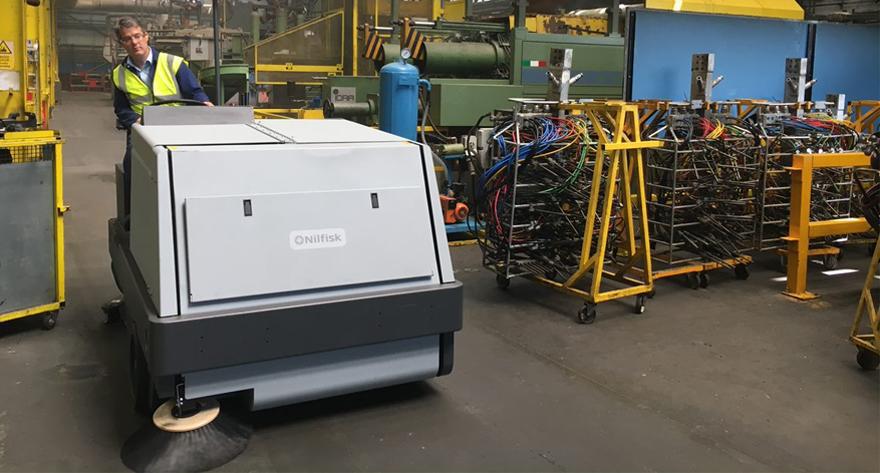 Keeping a foundry clean and hazard-free is a difficult task. The slag, slime and dust produced by the manufacturing process can only be effectively removed by the heaviest of industrial equipment.
A UK foundry had hired cleaning machines from a number of manufacturers to varying degrees of success. Costs were high and it became clear that purchasing an industrial combination machine would be beneficial.
Nilfisk demonstrated its diesel-powered CR1500 vacuum sweeper and scrubber that has an all steel construction, wrap-around bumpers and huge tanks and hoppers. The scrub brush pressure on the floor is adjustable, but with a maximum of 272kg, it often cuts through slime in one pass.
Working speed and the size of the solution and recovery tanks were also key factors. The CR1500 has a working speed of 11km/h and 380L tanks, boosting productivity for the foundry.
The hopper size of 454L provides increased operational time, while the dump height of 152cm means it can be emptied into various containers.
The foundry reports that it is very happy with the performance of the CR1500, saying that it copes extremely well in what really is the toughest of environments.
Easy no-tool access
The unit is very easy to maintain; no tools are required to access the brushes or dust filters. The dust filter is quickly and easily removed for inspection and this reduces maintenance and down time.
OTHER ARTICLES IN THIS SECTION