ARTICLE
Water rescue device trialled
05 June 2018
A new water rescue device has been chosen for a special pilot project by the fire service where it will be positioned along the banks of the River Great Ouse in Bedfordshire.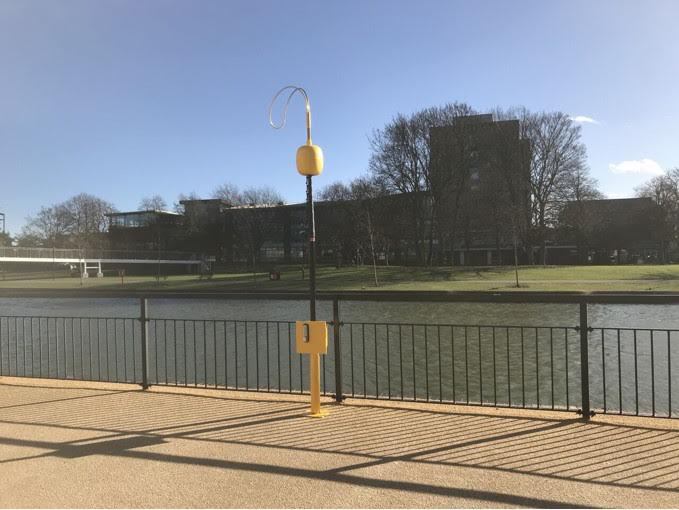 The pole-based system can reach someone in distress in the water in as little as 20 seconds. It is so easy to use that members of the public will be able to begin the rescue while the emergency services are on the way.
Portsafe consists of the innovation award-winning Reach and Rescue pole. Already used by 70 per cent of the UK's fire services, the pole extends to 17 metres and comes with a range of attachments for a host of rescue scenarios.
The pole is contained in a lockable box and stands the water's edge similar to the traditional lifebuoy. But unlike the lifebuoy, it is secure and tamper proof.
Jo Taylor, from Reach and Rescue, explains: "We work with many different rescue organisations and our poles are already widely used in lifeboats, marinas and ports across the world. Until now they have only been used by rescue workers but they are so easy to use and effective that they could accessed by the public, just like a lifebuoy."
The lockable box will carry a number for members of the public to call to allow access to the Reach and Rescue pole. The same call could also be used to raise the alarm to the emergency services.
"In a rescue situation every second is vital," said Jo. "The real beauty of the system's rigid design is that you can direct and control the rescue rather than expecting someone who is in the water, cold, confused and terrified to swim towards a ring."
The Reach and Rescue has a host of different applications including animal rescue and safety when working in high places. It also has a camera attachment to allow it to be used in search operations in hard to reach places or underwater.
OTHER ARTICLES IN THIS SECTION