ARTICLE
Escape set launched
17 May 2018
British engineering company Semmco is showcasing its life protection systems at this year's Utility Week Live exhibition, including the brand new HEAD30 escape set, on stand C30.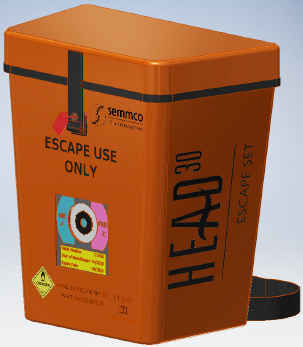 In the UK, a number of workers are killed or seriously injured in confined spaces across a wide of hazardous industries each year. Danger can arise when there is a lack of oxygen or if workers are suddenly faced with poisonous gas, fumes or vapours. Breathing apparatus is essential if the air is compromised.
Semmco offers a range of breathing protection solutions for individuals who work in confined spaces and hazardous environments, where the breathable atmosphere may not be safe. The revolutionary design of the HEAD products provide a safe and constant supply of oxygen for up to 10, 15, and now, 30-minutes.
The range includes the HEAD10 escape set, HEAD15 escape set, six minute inspector set, and the 15 minute working/rescue set. The latest addition to the range, the HEAD30 escape set, is an all-encompassing apparatus that continues to be lightweight but provides 30-minutes of oxygen supply.
HEAD30 Escape Set
The HEAD30 weighs only 1.5kg and because it is head worn, the wearer can move about easily, unhindered by bulky equipment. The HEAD30 is fast and easy to don and remove and the hood provides excellent panoramic vision and contains an integral audio-visual alarm that improves user safety.
The escape set proudly boasts a 12-year no maintenance shelf life, only a 6 and 9 year validation check, as the HEAD30 is sealed in nitrogen preserving its integrity and increasing cost effectiveness. An integral oro-nasal mask provides an excellent face seal and with instant oxygen supply on start-up, the HEAD30 starts to work as soon as it is put on therefore increasing the worker's chance of survival and a safe escape.
The launch of the HEAD30 escape set marks a milestone for the company as Semmco celebrates 25-years in business innovation.
Stuart McOnie, managing director at Semmco says: "This year stands as an incredibly exciting time for us: we are set to open our first office in America, we are celebrating 25-years of Semmco and Utility Week Live will see us launch our latest life protection system, the HEAD30. Our stand at the event this year will be buzzing with excitement as we look forward to speaking directly with customers and exploring the new opportunities in the utilities market that arise from the show."
Semmco provides its life protection systems to an extensive customer base such as Centrica Energy, BP, HM Prisons, Welsh Water, and Ineos. For more information about Semmco Life Protection Systems, visit the Semmco Utility Week Live stand C30, call the UK office on +44 (0) 1483 757200 or visit www.semmco.com
OTHER ARTICLES IN THIS SECTION