ARTICLE
Metal makeover
02 June 2017
British chain manufacturer and supplier FB Chain has launched a steel version of its patented FB Professional Chain Wear Gauge, following high demand from customers.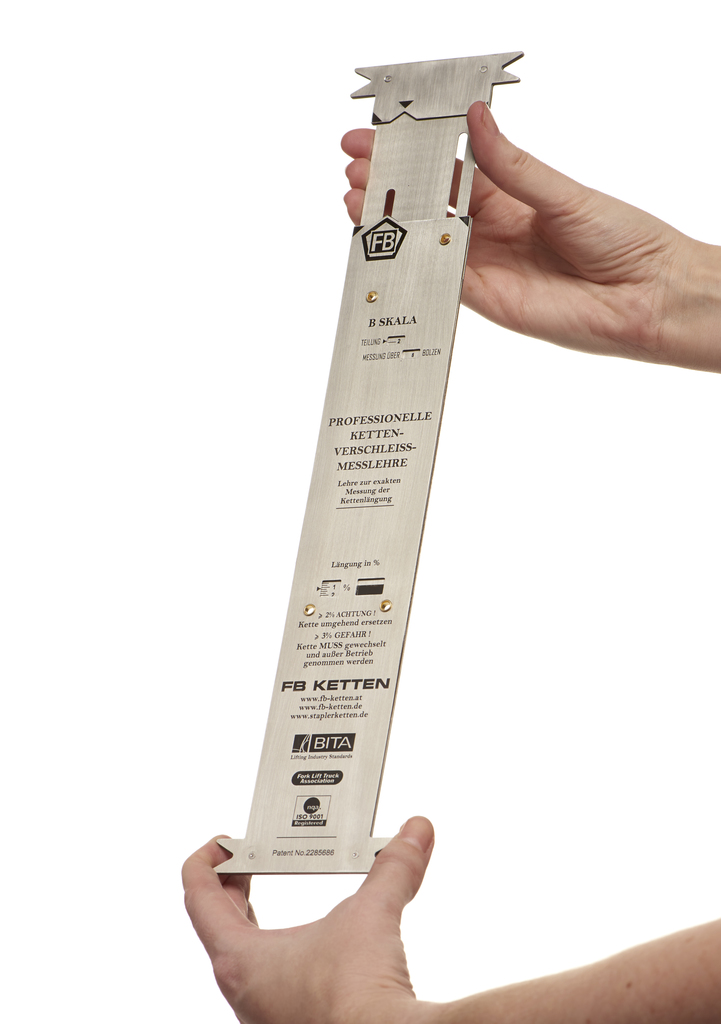 After 18 months of development, a new metal version of the revolutionary FB Professional Chain Wear Gauge is now available to all FB Chain customers. The new model, officially launched at LogiMAT 2017, is made from high grade stainless steel with all the markings etched in black into the surface. It sports a distinctly robust feel, weighs over 300g (almost three times the weight of the original) and provides the same level of accuracy FB Chain's customers have come to expect.
Throughout its 30-year history, FB Chain has been a key driver for quality and safety in the industry. Its loyal customers have come to see the company not just as a supplier but as a source of valuable advice on the correct specification, tension and lubrication for each individual application.
The creation of a metal FB Professional Chain Wear Gauge was prompted by high customer demand, as FB Chain's managing director, Peter Church, explains. "We've been receiving requests for a robust, metal version of our chain wear gauge for a few years now," he says. "However, despite a number of efforts to produce one, it was difficult to achieve the same level of accuracy required on the scales to the V-shape jaws that the original plastic version offers. But thanks to recent developments in laser marking, we've managed to create a metal product that is just as accurate as its plastic twin. It took about a year and a half to make and it's great to finally have them in our hands!"
A premium product
Like the original, the steel version of the FB Professional Chain Wear Gauge is suitable for measuring wear on all chains from 3/8 to 3-inch pitch. The tool is a fool-proof solution for service technicians to quickly, confidently and accurately compare the chain's actual length to the nominal pitch length and calculate the percentage wear. This figure is shown in 0.25% wear increments from 0 to 4% worn with a warning box appearing at 2%.
"Although the metal version doesn't feature any added operational benefits to its plastic brother, everyone who's seen the prototype is very keen to have one," Peter adds. "It's a premium product and any technician that takes care of their toolbox will want to add this to his collection."
The steel FB Professional Chain Wear Gauge comes with a protective box and a set of comprehensive instructions detailing how to determine the nominal pitch of a chain and the correct measurement procedure.
The new stainless steel professional chain wear gauge can be purchased online via the website www.chainweargauge.com
OTHER ARTICLES IN THIS SECTION