ARTICLE
SoloProtect in 'Top 100'
07 March 2016
Lone worker specialist SoloProtect was placed 85th in the 'Sunday Times 100 Best Small Companies to work for 2016' at the annual Best Companies Event, which took place in London on 24th February.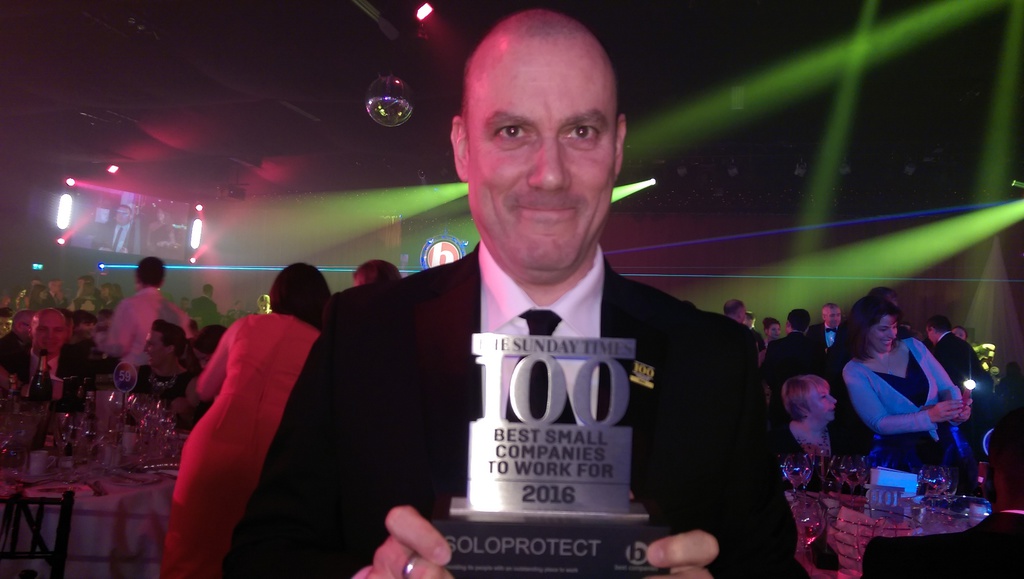 The Sheffield-based company, which manufactures 'Identicom' – the widely-used dedicated device for lone workers in the UK – was delighted to debut in the list after entering for the first time last year.
Identicom, the small, mobile communications device that looks exactly like a worker's ID badge, is used by upwards of 150,000 lone workers.
SoloProtect continue to help employers reduce risk to their lone workers – often those that are community based, visiting remote locations or in a large fixed site – by providing 24/7 support, and class leading customer support. The company also helps clients understand the associated business risks that employing lone workers invariably carries, and working closely alongside them to help mitigate those financial risks.
Craig Swallow, MD of SoloProtect UK, said: "SoloProtect's inclusion in the Sunday Times 100 list for the first time was genuinely exciting and all down to our staff, and how engaged they are with what we're doing in the business, and what we hope to do moving forward."
SoloProtect are located on Stand D74 at The Health & Safety Event.
OTHER ARTICLES IN THIS SECTION