Vehicle camera system
17 February 2016
Lanes Group has invested £200,000 installing one of the UK's most advanced camera systems on lorries to help drivers set the highest possible road safety standards - especially for protecting cyclists and pedestrians.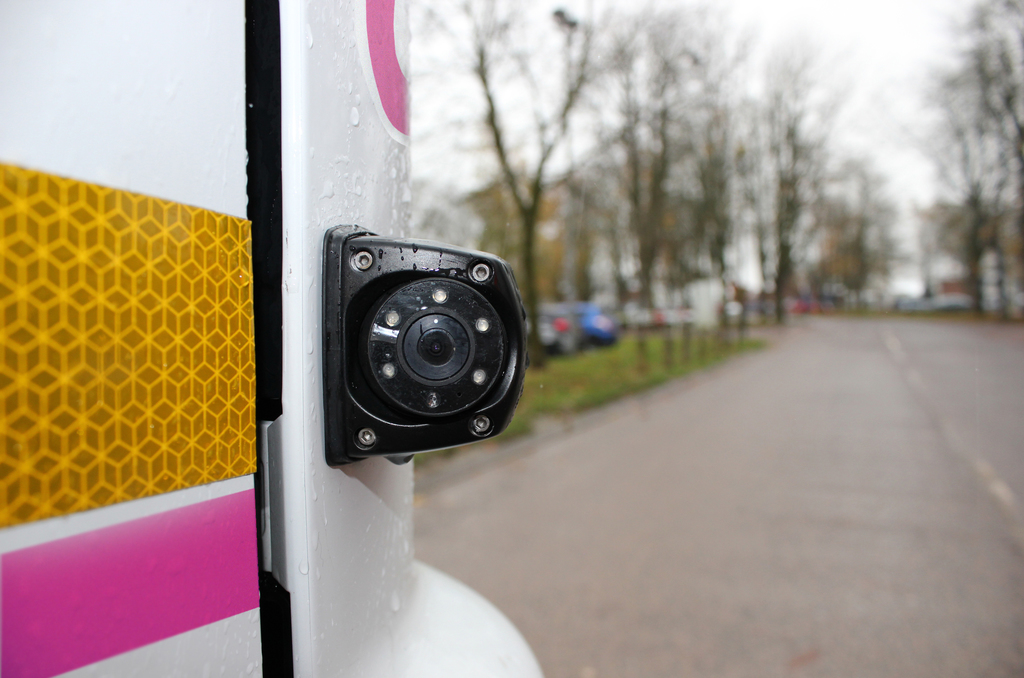 The cameras have been fitted to 100 HGVs operated by the drainage and maintenance specialist's utilities division working on the wastewater network services maintenance contract for Thames Water.
The contract is the largest of its kind in the UK, taking in drainage assets that serve 25 per cent of the UK's population, including Greater London, and requires completion of more than 320,000 drainage maintenance jobs a year.
Health and safety is central to these operations, and Lanes Group has responded to Thames Water's desire to set the highest standards on road safety by investing in technology that supersedes all current regulatory requirements.
Video cameras are fitted to the front, rear and sides of each vehicle, allowing drivers to view all potential blind spots. Motion sensors along the nearside of each vehicle can detect cyclists or pedestrians, and alert the driver.
In an additional move by Lanes Group, hard drives have been installed in each vehicle to store footage for up to 30 days. This is used as evidence, in conjunction with GPS vehicle tracking technology, if there is an incident that needs to be investigated.
The investment is designed to ensure operations comply with new Thames Water road safety standards, as well London's Safer Lorry Scheme, which requires all HGVs to be fitted with safety equipment to protect cyclists and pedestrians.
The technology has had an immediate impact. Recorded incidents involving HGVs have fallen. Also, in less than four months, video footage has helped Lanes Group challenge and disprove six fraudulent compensation claims made by other road users.
The system has also qualified Lanes Group for a discount on its insurance premium.
Thames Water asked Lanes Group to demonstrate the system, developed by Brigade, to MPs in their service area, to show how the water company is taking seriously the need to do more to protect cyclists and pedestrians.
Paul Jones, Lanes Utilities Transport Manager for the Thames Water contract, said: "We decided right from the start that we were not going to take a 'minimum is okay' approach.
"Our aim is to provide our drivers with all the support they need to make the right decisions to safeguard the wellbeing and lives of other road users, and pedestrians."
The camera system has been welcomed by Lanes Group HGV driver engineers, including Ronnie Winterflood, a jet vac engineer based at the Lanes Utilities depot in Beckton, East London.
He said: "While travelling to and from jobs, often at peak times for traffic and road activity, I try to stay as vigilant as possible. With the installation of safety cameras, there is now an extra element of protection, so there is less risk that other road users can come to harm, and I am safer as well."
The sensor and camera system is particularly useful in heavy traffic at junctions, where cyclists can be tempted to come up the nearside of vehicles.
The driver can view the HD-quality video from all the cameras on a dashboard monitor. When the sensors detect the presence of a cyclist or pedestrian, the monitor switches full screen to footage from the relevant camera.
The system cost over £2,000 per vehicle to install, with a significant part being the addition of the 500 gigabyte hard drive.
This helps hold Lanes Group and its drivers to account. It is also already proving to be a crucial safeguard, in providing incontrovertible video evidence when drivers have been wrongly accused of contributing to a road incident.
Installation of the camera system is just the latest HGV safety initiative introduced by Lanes Group. It has developed a three-day induction process for all HGV drivers, which is far more rigorous than the industry standard. It is now developing a web app to support vehicle safety checks.
OTHER ARTICLES IN THIS SECTION