ARTICLE
Inspect your attachments
14 October 2015
CFTS, the body behind the UK's national scheme for the Thorough Examination of lift trucks, has issued a reminder to truck owners and operators: Thorough Examination is not just for trucks; attachments require inspection too.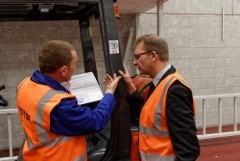 Under UK health and safety law, fork lift truck users are legally obliged to ensure that their trucks receive a thorough examination, at least once every 12 months (more frequently in some cases). Attachments – such as platforms, booms, cranes, grabbers, fork extensions, etc. – also require inspection, and failure to comply could lead to prosecution by the Health and Safety Executive (HSE).
When attachments are permanently fixed to the truck, they should be inspected as part of the truck's thorough examination. However, non-permanent attachments are not included in this, and must be inspected by a competent person at least twice a year.
Fork trucks must comply with LOLER and PUWER. As the HSE states: 'LOLER 1998 covers lifting equipment, and PUWER 1998, deals with all other safety-related items, such as brakes, steering and tyres'. As part of the lifting mechanism, permanent attachments must be inspected along with the rest of the truck.
CFTS chairman Mike Mathias said: "Attachments are a crucial part of the lifting mechanism and must be treated accordingly. The sudden failure of a boom, winch, platform, or other attachment could be incredibly dangerous – particularly while carrying a load.
"The CFTS Thorough Examination lives up to its name and includes an 18-point checklist for attachments alone. This ensures attachments are in good general condition, and that all their components – electronic, hydraulic, and mechanical – are working correctly. In this way, truck operators can be secure in the knowledge that their truck is safe and legal."
The CFTS website, www.thoroughexamination.org, features a specification tool which tells users how often their truck should be examined.
OTHER ARTICLES IN THIS SECTION