Monitoring module
08 September 2015
With increasing health and safety demands and the need to protect valuable equipment, Finder's new top of the range 70.42 3-phase, multifunctional monitoring relays offer maximum flexibility in monitoring a range of electrical supply parameters in compact, easy to adjust units at a competitive price.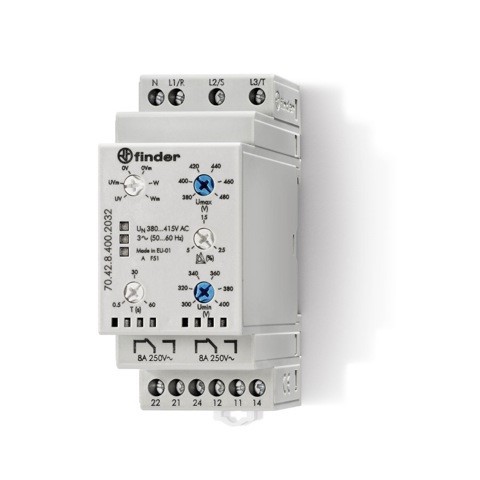 This relay is suitable for monitoring supplies to machinery, equipment, and installations where failure or variation outside acceptable limits may result in damage to equipment, danger to personnel, or disruption to critical processes or procedures.
The Finder monitoring relay contributes to meeting the specific requirements of machine safety legislation (EN/60204-1), which requires that portable or semi-portable motor-driven equipment be prevented from starting up in the wrong direction should the local phases be reversed.
Able to monitor supply voltage within adjustable limits in six selectable modes (Under-voltage, Over-voltage, Window— all with or without Memory option), the unit also responds to out-of-limit Phase Asymmetry, incorrect Phase Sequence, and both Phase and Neutral loss.
OTHER ARTICLES IN THIS SECTION