Safe storage at height
24 June 2015
Designed, patented and manufactured in the UK, the Skaftray is used for the safe storage of materials and tools whilst working at height on mobile towers, podium steps or MEWPs.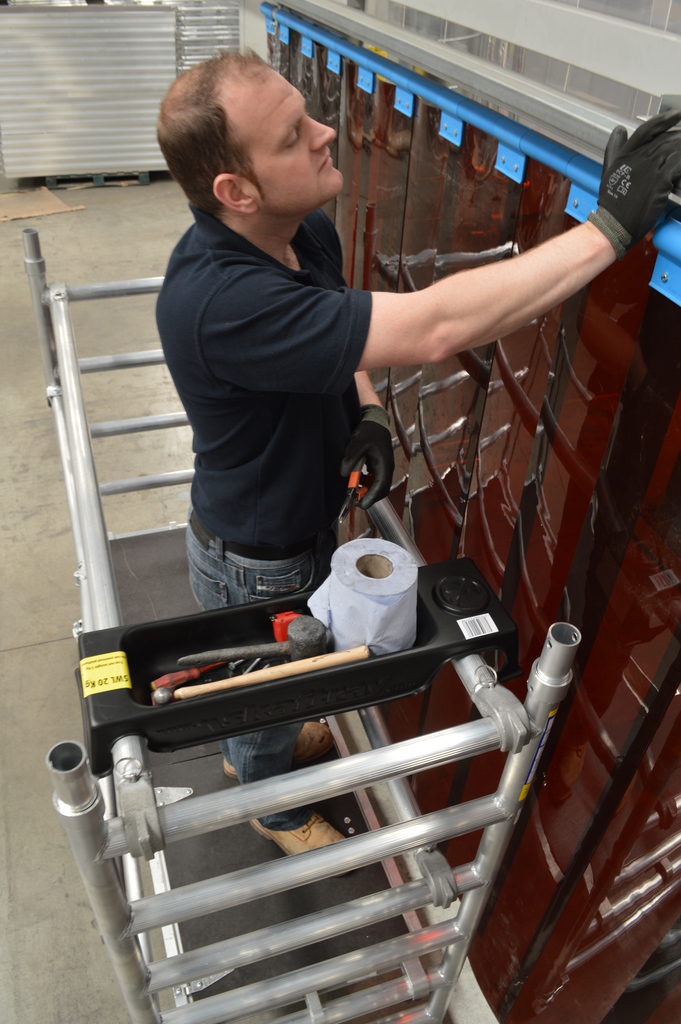 Developed primarily to reduce the number of accidents as a direct result of dropped or falling objects, Skaftray is said to improve productivity and reduce the risk of repetitive stress injury by removing the constant need to bend over for tools and fittings, whilst also removing potential trip hazards.
Recognised as best practice, by major UK construction companies such as Laing O'Rourke, Costain's, Balfour Beatty and Carillion to improve their health and safety performance, Canary Wharf Contractors and Costain's have mandated its use. It is also being used by NG Bailey, T Clarke PLC, Spie Matthew Hall and Balfour Beatty Engineering - amongst others.
PASMA states 'Avoid using ad hoc methods for storing tools and materials such as boards or other sheet materials set across the guardrails. Properly designed proprietary tool trays that fit within the guardrails, are one way of reducing the risk of falling objects.'
Sizes range to fit mobile scaffold towers and podium steps of all makes and brands, Skaftray is now moving towards developing and promoting a range specific to MEWPs and even more specifically to scissor lifts, PAVs (push around vertical access equipment) and self propelled booms. The developers of Skaftray would also like to see it further developed and promoted to accommodate all types of MEWPs in the future.
Skaftray won the Safety and Health Expo for Product Innovation (presented by the British Safety Industry Federation) and were also finalists in the Construction News Awards product Innovation Category.
Skaftray is distributed by Lyte Products in Swansea.

MORE FROM THIS COMPANY
No related articles listed
OTHER ARTICLES IN THIS SECTION