Catering to the masses
03 December 2014
Metsä Tissue has launched a new range of napkins for mid-size restaurants, canteens, caterers and grocery chains.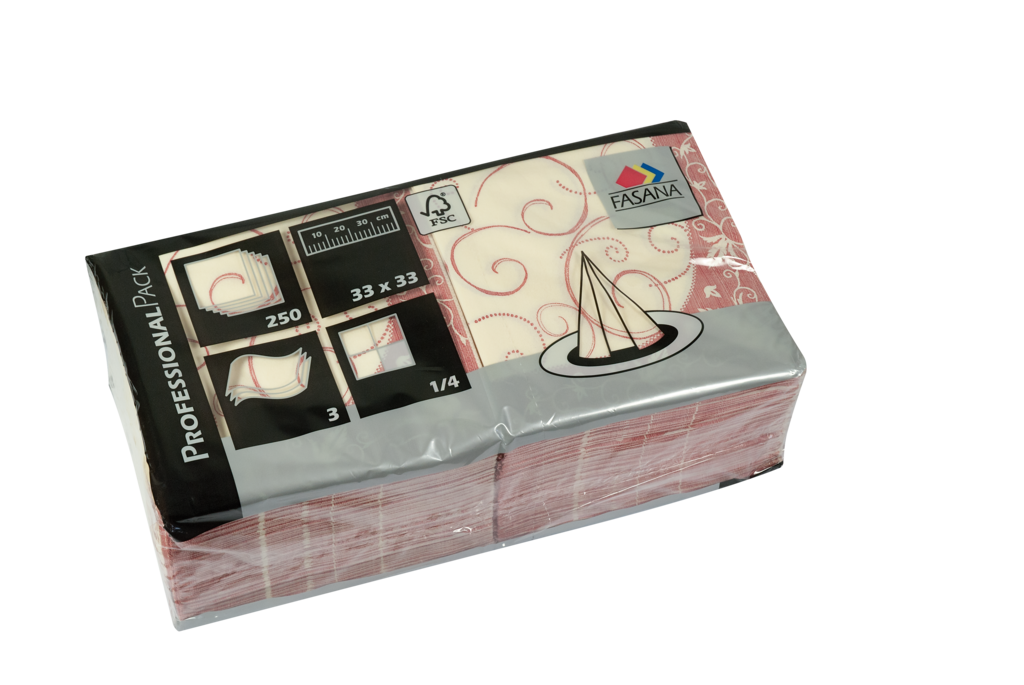 In addition, in bringing a new napkin range to market, Metsä Tissue has decided to revert to the "Fasana" name. Mark Dewick, Sales Director for UK and Ireland explains, "Katrin is positioned and seen as a brand dedicated to hygiene and dispenser solutions". He continues, "We wanted to leverage the strength and continuity of the long established Fasana brand, to bring this exciting new napkin range to market".
With 3 grades (Tissue, Decosoft and Gourmet), the Fasana range includes:
•White, 1 ply embossed napkins in 2 sizes.
•White napkins in 2 ply and 3 ply, 4 fold and 8 fold.
•A uni-coloured range, again in multiple plies, sizes and pack sizes, with 13 great colours.
•Decosoft Design range, with the option of matching table runners.
•The Gourmet, 4 ply range.
•33cm bright coloured napkins and "Brilliant" matching table rolls.
Competence in colour
Mark explains, "What is particularly exciting is the new range of colours – we have the traditional shades that people need and expect, and we also have some really exciting new colours and designs". He goes on, "These new products fit perfectly into customer environments. Fasana really brings a comprehensive product portfolio that is absolutely focussed on specific market relevance".
As you would expect with products made by Metsä Tissue, the new napkin range is made in premises certified to International Standards and made from an FSC mix of fibres. In addition, these new napkins are completely food safe. Mark explains, "Primary Aromatic Amines or PAAs (by-products in the production of azo dyes, which are contained in almost all mass-produced dyes) are an interesting topic in the industry today". He continues, "Some of the PAAs are considered carcinogenic and EC directive No. 10/2011 (KunststoffVO), states that no more than 10 parts per billion (ppb) of PAA should be transferred to foodstuffs from a food contact material as a standard guideline".
As part of its Corporate & Social Responsibility commitments, Metsä Tissue has analysed and dealt with this issue. Mark says, "All of our coloured and printed napkin specifications fall well below this, with a defined detection limit of less than 2 ppb, which independent test institutes and the industry have agreed can be termed PAA free".
So, the napkins are sourced in a sustainable fashion, manufactured in an environmentally sound facility and are extremely safe to use. Mark says, "In addition, all napkins are compostable after use, so they really are environmentally sound throughout their lifecycle".
Obviously, napkins are big business in the run up to Christmas, but the new Fasana range has products for the whole year. Mark explains, "With colours and sizes to suit all occasions, Fasana will deliver value for money at any event. More than this, with new production technology and capacity, we are able to address the needs of the private label market with this new range". He goes on, "We have the flexibility to deliver products and colours to support market needs for consumer driven labels".
Mark concludes, "As we go in to 2015, with products available in the first quarter, we are very excited and believe that the Fasana product range will enable us to excel in this market place".
OTHER ARTICLES IN THIS SECTION