Improves visibility & comfort
29 August 2014
Border Biscuits recently invested in a purpose built warehouse to increase their storage capacity which required additional handling equipment that could operate up to 9.5 metres.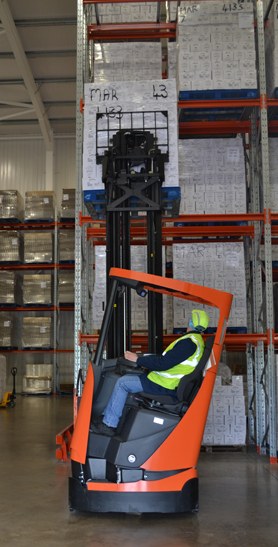 Border Biscuits trialled a number of trucks before choosing to work with Toyota Material Handling UK.
Toyota delivered a tailor made solution for Border Biscuits by providing its Traigo 48 volt electrical forklift for general duties, and a BT Reflex E series reach truck fitted with the Toyota tilting cab. This feature makes stacking at height much easier, improving visibility and comfort for the operator. In addition automatic side shift and a programmed height pre selector was included making the stacking operation more effective, increasing productivity and safety.

The tilting cab feature is said to remain unique to the BT Reflex reach truck. The key benefit is its ability to adjust the driver position to give a clearer view of the load whilst reducing neck strain. This can help drivers to work more productively, safely and reducing the risk of damage to goods.
OTHER ARTICLES IN THIS SECTION