Home
>
Extend battery life
ARTICLE
Extend battery life
27 May 2014
Fleet batteries can fail or perform below expectation due to inappropriate use or repeated opportunity charging.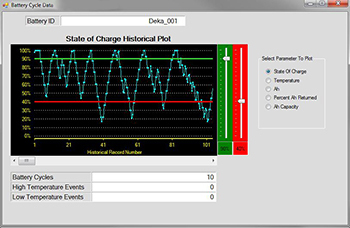 Opportunity charging creates overly high temperatures inside the battery, causing chemical imbalance and premature ageing of an expensive item that should last for many years.
Intelligent battery monitoring with Acuity (and the resulting appropriate charging methods) will not only prevent battery life being cut short, it may extend it, says Curtis Instruments. Acuity is an on battery device designed to measure, record and transmit performance data throughout the life of the battery, helping fleet managers identify where a battery is being subjected to practice or conditions for which it was not intended.
Mounted directly on an industrial, lead-acid battery, this simple, non-invasive (no drilling) solution improves productivity and operating efficiency with significant impact on the bottom line. Data gathered from the battery can be viewed, analysed and stored with the AcuSet Software.
RELATED ARTICLES
No related articles listed
OTHER ARTICLES IN THIS SECTION