Tackling occupational lung disease
30 October 2018
Following the launch of the Health and Safety Executive's (HSE) 'DustBuster' campaign, aimed at tackling occupational lung disease caused by construction dust and other hazardous substances, Mary Cameron, occupational hygiene team leader at SOCOTEC, takes a closer look at the initiative and how you can ensure compliance.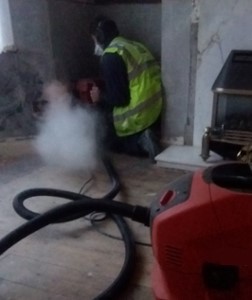 What is the HSE's 'DustBuster' initiative?
HSE inspectors have been visiting construction sites throughout October 2018 in an initiative to assess compliance with workplace health regulations and the control measures in place to protect workers' health, with a focus on preventing lung disease.

The HSE warns that where poor workplace health standards are found on site, enforcement actions will be taken. Hazardous substances commonly found on construction sites include asbestos, silica, and wood dust. These are well known as being highly hazardous to health with long latency periods. Other hazardous substances found on construction sites may include welding fume, sprayed paint, solvent vapours, engine exhausts and micro-organisms. It is important that construction site managers and employees understand the risks involved in their work, and that this is undertaken in a way which prevents or minimises exposure to hazardous substances, by applying adequate control measures.

The Control of Substances Hazardous to Health (COSHH) Regulations 2002 (as amended) defines adequate control and what is required by employers to ensure workers' health protection. The legislation requires every employer to assess the risk to health created by working with hazardous substances, and then prevent and/or control exposure to hazardous substances, maintain, examine, and test those control measures, and carry out exposure monitoring and health surveillance (if deemed necessary by the risk assessment).
How can you reduce risk?
The HSE has estimated there are around 8,000 work-related cancer deaths annually in the UK. Within the construction industry this accounts for 3,500 deaths, with asbestos and silica being the major causes. These figures are not new and many work place hazards (asbestos, silica, and wood dust) are already well known. Consequently there is already a wide range of guidance available to employers on how to keep their workforce healthy and to employees on how to understand their risk and work in a way which prevents or minimises exposure.
Guidance is available within the COSHH Regulations, the HSE website, as well as by the British Occupational Hygiene Society (BOHS) Breathe Freely campaign, which is aimed at controlling exposures to prevent occupational lung disease in construction.
The BOHS Breathe Freely campaign has produced a HI (Health in Industry) standard management tool to help managers prevent and control employees' exposures to the risks from construction work that cause ill health and disease.
Ensuring health risks are properly recognised, evaluated, and controlled can be achieved by:

• Applying leadership and commitment
• Undertaking a risk assessment
• Ensuring that workers are competent and trained
• Planning and designing processes to eliminate or minimise risk to health
• Adopting the most effective and appropriate exposure controls
• Establishing a management programme to ensure that the effectiveness of controls are maintained
• Investigating any potential workplace ill health via exposure monitoring and health surveillance.
How can SOCOTEC help you comply?
Occupational hygienists anticipate and identify hazardous agents (physical, chemical and biological) in the workplace that can cause occupational disease or discomfort. The aim is to evaluate the extent of the risk due to exposure and recommend the best controls to prevent ill-health. At SOCOTEC, our occupational hygienists often attend construction sites to undertake workplace monitoring and control measure evaluations.
SOCOTEC's occupational hygienists can help employers in their COSHH compliance programme by assessing the worker's exposure to hazardous substances and also by undertaking examination of control measures in place to ensure continued performance or recommend improvements. Occupational hygienists are there to assess, advise and improve upon workplace hazards.

The pictures shown (of a construction worker cutting into concrete flooring, and a construction worker drilling into stone wall) are not uncommon.
Many processes on construction sites generate high levels of contaminant clouds: rotatory tools, hand tools, blasters, needle guns, dry sweeping, mobile plant engines, and aerosol tools. Hazardous substances are also found in the construction materials themselves and waste products, including wood, insulation, concrete, cement, and bricks. Our occupational hygienists can assist in selecting the best control measures for each process such as water damp down, vacuum extraction, alternative working methods, and low dust generating tools. Our understanding in the risks involved in a wide variety of workplace activities makes us highly capable to recommend effective exposure prevention and control measures.
Find out more about our occupational hygiene services here.
More information is available on the Breathe Freely website including a construction managers toolkit, toolbox talks, visual standards, site check lists and a COSHH guide.
For more information email salesuk@socotec.com
OTHER ARTICLES IN THIS SECTION