ARTICLE
New technology used for solenoid lock
10 September 2019
The Schmersal Group is using Plasma-SealTight technology in a pilot to produce its AZM300 solenoid lock. Used on safety doors, the interlock has a metal bracket integrated into a plastic actuator. The bracket engages with an interlock cross-head to ensure safety doors are securely closed.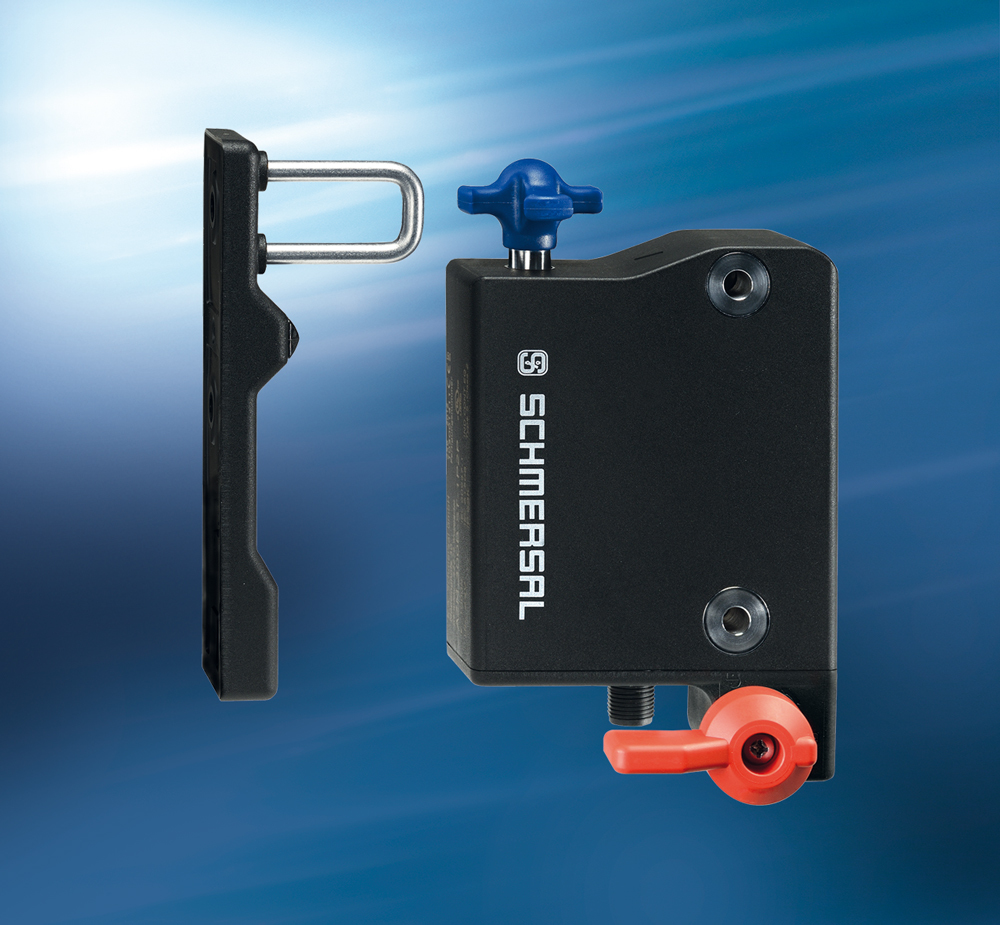 Plasmatreat has developed a process for hybrid injection-moulded parts in cooperation with the plastic compound manufacturer, AKRO-PLASTIC. This new process is said to provide a significant improvement to bonding in hybrid plastic-metal components and can be integrated into series production lines.
A reliable, firm bond is crucial during the joining process to produce a high-quality, resistant joint between the dissimilar materials plastic and metal. In a plastic-metal bond, interfaces without a special seal represent a constant contact surface where water, air or other media ingress. The Plasma-SealTight plasma seal process developed by Plasmatreat and AKRO-PLASTIC offers a new approach to providing a highly bonding, media-resistant hybrid joint. In this new industrial solution, the plastic compound formula, the process parameters, and the composition of a plasma-polymer seal layer created under atmospheric pressure were matched to one another in such a way that they would create a durable, media-tight bond in the component.
The new process is said not only to achieve better product quality, but also a reliable, reproducible, cost-efficient production process with the added bonus of respecting the environment. Thanks to the Plasma-SealTight technology, there is no need to apply cost-intensive, environmentally harmful chemicals to metal surfaces. Such chemicals are often used to create a firm bond with the help of solvent-based adhesion promoters.
The AZM 300 is an innovative safety interlock which is now used in many sectors of industry. AZM 300's features include a new patented operating principle with a hub and cross-head. It brings the advantage that the safety door is pulled into its end position when closed and is securely locked free of almost any clearance. The solenoid interlock operates as an integrated guard catch, hence removing the need to fit a separate catch. An RFID sensor is used to identify the actuator reliably, thus providing three different code levels and, consequently, protection against manipulation.
If the new process proves to be successful after completion of a pilot phase, Schmersal intends to use it in both new and existing products, thus producing them even more efficiently.
OTHER ARTICLES IN THIS SECTION