Home
>
Fast-action door supports 24/7 production
ARTICLE
Fast-action door supports 24/7 production
10 December 2019
Stertil Dock Products has installed a FlexiEdge fast-action door to support round-the-clock operations at the manufacturing site of a milk and dairy products producer in Westbury, Wiltshire.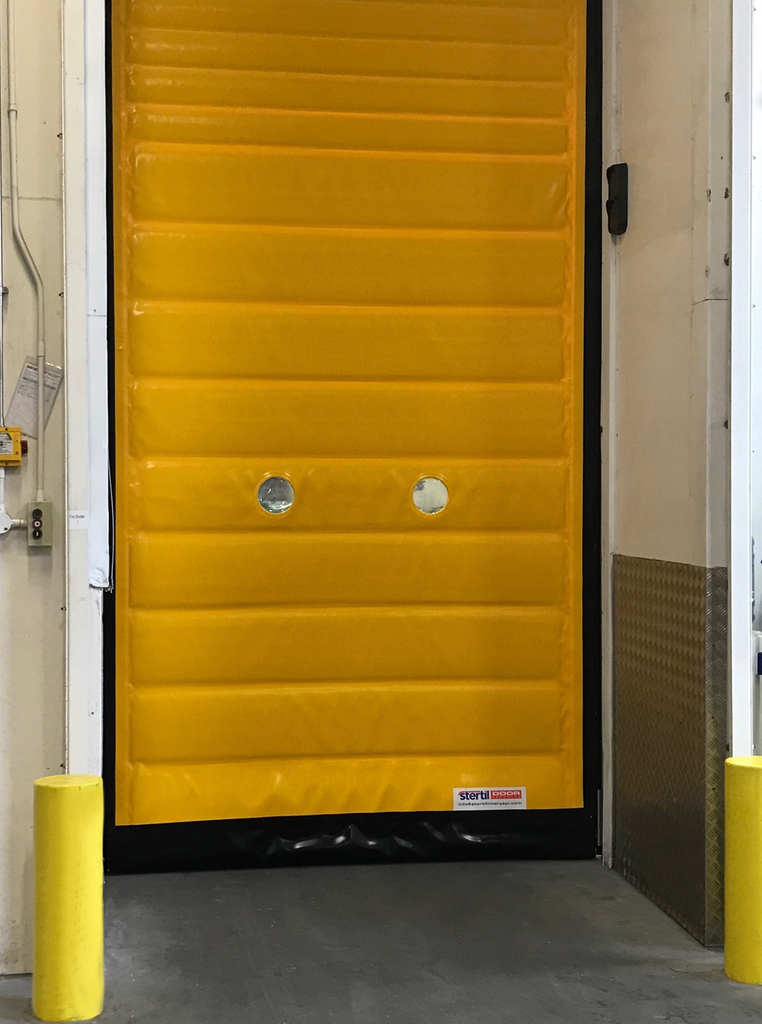 Measuring 2000mm wide x 3500mm high, the Stertil FlexiEdge fast-action door, type Power M2, was specified to provide ready access to a refrigerated area within the site's butter loading dock. The new Stertil door replaced a solid sliding door that was heavy and difficult to open and close. By contrast, the new Stertil FlexiEdge door, which incorporates an insulated curtain, is lightweight, durable and easy to operate.
Stertil's FlexiEdge range comprises 16 models of many different types and styles including internal and external doors, all-weather doors, cleanroom and freezer/coldroom doors plus emergency exit doors incorporating breakthrough curtains. Standard models are available in widths to 11 metres and heights of 5.5 metres, whilst bespoke and special sizes may be specified. Also, the range provides standard travel speeds up to 2.7 metres per second (opening) and 1.2 metres per second (closing) to shorten work cycles and increase productivity.
The door curtain is fully flexible with a soft bottom edge which not only self-adjusts to seal on an uneven floor but also avoids any possibility of causing injury to users. In addition, the incorporation of an infra-red photocell, fitted 300mm above floor level, supported by a bottom edge wireless detector ensures instant halting of all door movement in the event of sensing an obstruction of any kind. Also, the flexible soft-edge curtain provides maximum resistance to damage caused by a vehicle collision. If the door edges are knocked out by the collision, they are automatically re-inserted in the side guides as the door opens.
A wide range of activation systems allows maximum versatility of FlexiEdge doors in many different applications. Alternatives to the standard push button pads include wired and wireless pull cords, key switches, induction loops, photocells, radar, radio or infrared transmitters, presence detectors and touchless hand-wave detectors. At the Westbury site, the door is activated by a radar detector on both sides with a built in PIR safety sensor. Personnel also have the option of using a wireless pull cord from within the refrigerated area.
The incorporation of top quality materials, including galvanised steel for structural strength allied to reinforced polyethylene side guides, ensures that FlexEdge fast-action doors provide excellent performance and reliability in the most demanding applications and environments. Furthermore, a hi-tech manufacturing process involves the insertion of reinforced polyester within a PVC sandwich to produce a high strength yet lightweight door curtain. Many of these may also be specified to incorporate company names, logos and other types of corporate branding.
"The FlexiEdge door is used constantly 24 hours a day, 365 days a year," says Andy Georgiou, general manager at Stertil Door Products. "Our customer's refrigerated area is accessed by personnel and pallet trucks at least 60 times a day so it's vital that the door opens and closes fast to maintain the internal temperature and reduce energy costs. The company's maintenance team was also impressed by the soft-edge door curtain which automatically re-inserts if it gets knocked out as palletised loads are carried through the door."
Further information from Andrew Georgiou: ageorgiou@stertil.co.uk
0870 7700471
RELATED ARTICLES
No related articles listed
OTHER ARTICLES IN THIS SECTION