ARTICLE
Emergency Bus rolls into town
05 June 2013
Evac+Chair International made an impact at the 2013 Safety and Health Expo with the launch of their very own Emergency Bus.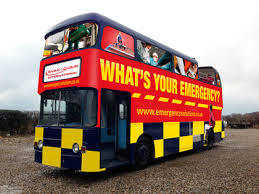 Unlike previous years, where the company had opted to exhibit on a conventional stand, this year saw Evac+Chair International using the customised bus to display its vast range of evacuation chairs and lifesaving equipment.
The double decker bus was fully modified with all Evac+Chair products as standard, allowing for interactive demonstrations of the wide variety of evacuation chairs such as the Air+Chair and emergency solutions including ParAid Medical Ibex Tran Seat and CardiAid Automated External Defibrillator.
Visitors also took advantage of the hospitality area situated at the top of the bus where they were treated to refreshments and had the chance to speak to members of the Evac+Chair International team about the best equipment suited for their organisation.
Director Mark Roberts said: "We were extremely excited to launch our Emergency Bus at the Safety and Health Expo this year, the bus provides an innovative way for us to showcase our various emergency solutions and demonstrate how easy our products are to operate with all who attend the show."
OTHER ARTICLES IN THIS SECTION