ARTICLE
Bespoke, extra-wide yard ramp
23 October 2019
Marubeni Komatsu, UK supplier of Komatsu construction, mining, quarrying and utility equipment, is reaping the benefits of a bespoke, extra-wide mobile yard ramp, designed by Thorworld Industries and supplied through Loading Bay Service.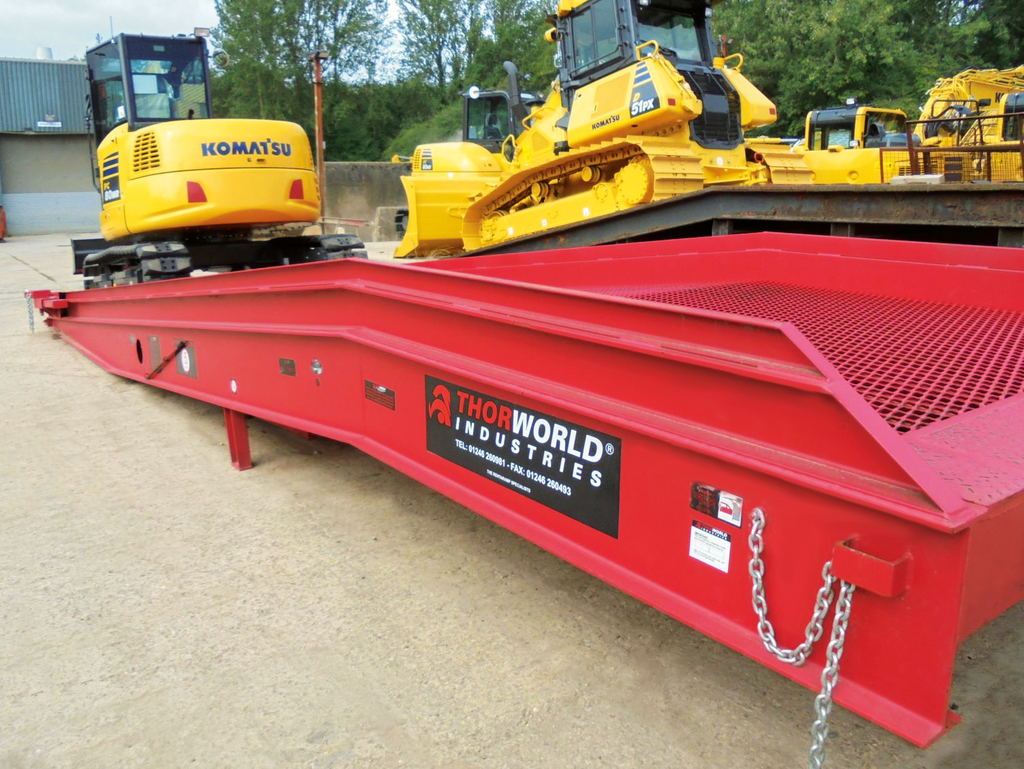 Marubeni Komatsu is constantly exploring ways it can improve its operations for customers. As part of this, the company was looking for a safer and more efficient unloading process for its warehouse facility.
"At Komatsu we pride ourselves on being the 'go to' premium brand for numerous industries. We're absolutely committed to providing our customers with the best solutions to their problems, and use this ethos in our own business operations," William Dowling, Health and Safety Manager at Marubeni Komatsu explains.
Manufactured in Italy and delivered to Komatsu's Padgets Lane, Redditch site, five and eight tonne vehicles, typically excavators, are brought to the UK on the back of flatbed wagons, with between three and five machines delivered within each consignment.
Historically, Komatsu's UK team used a warehouse ramp to enable vehicles to be brought into the operation's premise. Whilst the system worked, elements of the practice were considered compromised, and presented restrictions in terms of time and space.
Ideally, the team needed a longer, wider ramp, designed with a gentle slope to allow warehouse operators to unload machines without damaging vehicles or creating hazards.
Any successful apparatus design would have to withstand the considerable weight of the vehicles being unloaded, and, as the excavators feature hard rubber tracks, would need to be constructed using appropriate materials to prevent damage to both ramp and machines.
To begin sourcing the best solution, Marubeni Komatsu director Derek White found Loading Bay Service, and through association, Thorworld Industries via an internet search. Taking on the project, William and his colleague Steve Phillips, Senior Service Supervisor, visited Thorworld to see a selection of ramps first-hand and better research the equipment capabilities.
"We were keen to find a solution that could completely meet our needs. We knew that a standard ramp, designed for a forklift with rubber wheels wouldn't be appropriate, as the tracks on our excavators can cause a lot of damage. We required a more durable loading surface - long lasting, but also safe - and found the answer at Thorworld."
Between Loading Bay Service and Thorworld, an entire bespoke installation was designed. The 2,650mm wide ramp has the capability to withstand up to 15,000kg in weight, and with a length of 8,500mm and a durable, long lasting surface it provides a safe and efficient method of unloading for Marubeni Komatsu.
"We have been using the ramp for over 12 months now," William continues, "and can confirm that despite being put through its paces, it looks as good as new. The designed solution meets our needs entirely, and we'd have no hesitation in using Thorworld Industries or Loading Bay Service again or recommending the companies and their equipment to other businesses."
Warren Craig, Managing Director of Loading Bay Service, adds: "From the initial brief to the completed build, we worked closely with Marubeni Komatsu to create a loading ramp that completely met their needs. We're delighted to hear that even after 12 months of sustained use, the ramp is performing as well as it did on day one."
OTHER ARTICLES IN THIS SECTION