ARTICLE
Ramping up efficiency
04 December 2018
Independent frozen, chilled and ambient food supplier Hunts Foodservice, has installed its fourth Thorworld Industries' loading bay solution.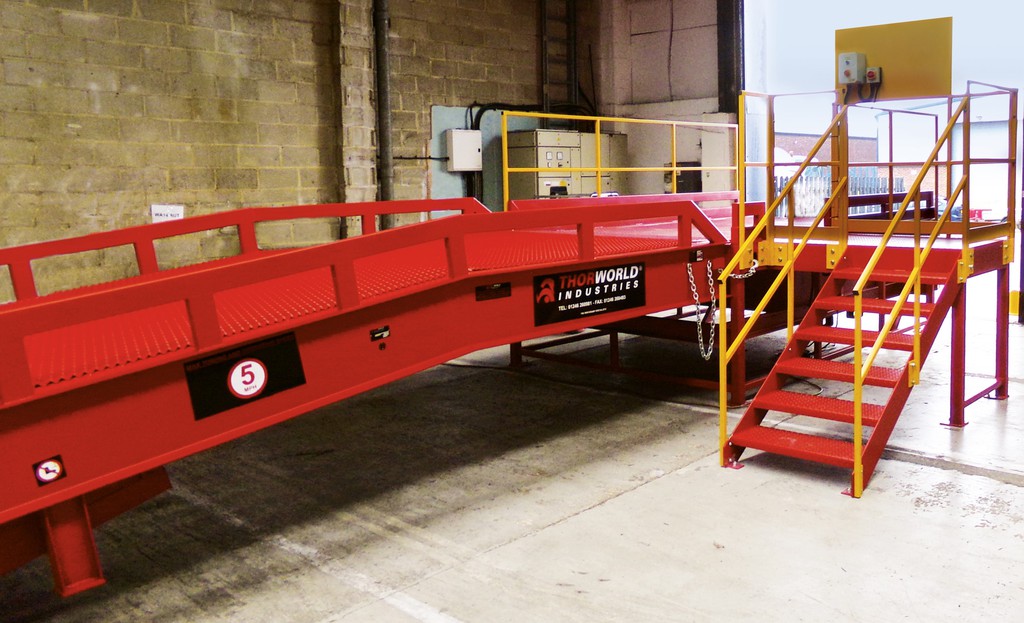 With sites across the South West, Hunt's has been impressed with the capabilities of its original Thorworld ramp, purchased with fixed loading platform and dock leveller back in 2016 for installation at the company's Sherborne warehouse. In February 2018, the firm installed a further two fixed ramps for its sites in Hazelbury Bryan and Stalbridge, each affording loading bay access from ground level, and in April chose to invest again – this time securing a ramp of the same design as the Sherborne apparatus, but for Hunt's Fareham site in Hampshire.
Thomas Hunt, operations director at Hunt's says the company discovered Thorworld Industries two years ago while conducting an internet search to explore ways to improve efficiencies, both in the loading bay and in terms of logistics. He found that the British manufacturer clearly had the design expertise to create a ramp with a fixed loading platform and dock leveller; capable of providing his operation with a longer, horizontal working area for safely packing 'double stacked' pallets or loading taller, larger goods into lorries.
"A key reason for wanting a fixed loading platform and dock leveller, as opposed to a standard ramp, was so our forklift could safely enter and load lorry containers. This would enable pallets to be 'double stacked', rather than simply placed into lorries at a single level; better utilising space, improving efficiencies and reducing our firm's carbon footprint."
After considering Thorworld's apparatus' potential online, Thomas contacted the firm, and one of the manufacturer's agents, Loading Bay Service (LBS), made an onsite visit to discuss exact requirements and design a solution that would meet Hunt's precise needs.
The apparatus designed, would enable direct forklift access, and subsequently the ability to double stack the pallets.
Thomas goes on to say how prior to the Thorworld ramp installation, loading bay operatives drove the forklift truck in the yard, and then manually placed pallets into the containers across one level.
"After installation, we were immediately able to utilise 89% of our lorries' internal space as opposed to 40 or 50%. Fitting more products in one container has saved fuel and transportation costs and reduced working hours for staff. Furthermore, we're able to run just one forklift, which can operate in both the warehouse and inside the containers, as opposed to one vehicle in each."
Off the back of his experience with the loading equipment, Thomas went on to order the two separate fixed Thorworld ramps for Hunt's Hazelbury Bryan and Stalbridge sites, and now reports the successful installation of a second fixed loading platform and dock leveller for the firm's Fareham site; totalling four Thorworld installations in all.
"We're delighted to welcome an additional fixed loading platform and dock leveller at our Hampshire operation," Thomas continues, "which we're confident will achieve equal results to the equipment in Sherborne; and the apparatus in Hazelbury Bryan and Stalbridge is also proving its abilities superbly.
OTHER ARTICLES IN THIS SECTION