Lift system for washbay
03 August 2018
As part of a reconstruction project to replace workshop and vehicle washing facilities destroyed by fire, Wm Hamilton & Sons specified a Stertil Koni Skylift 350 to simplify operations within a purpose-built washbay.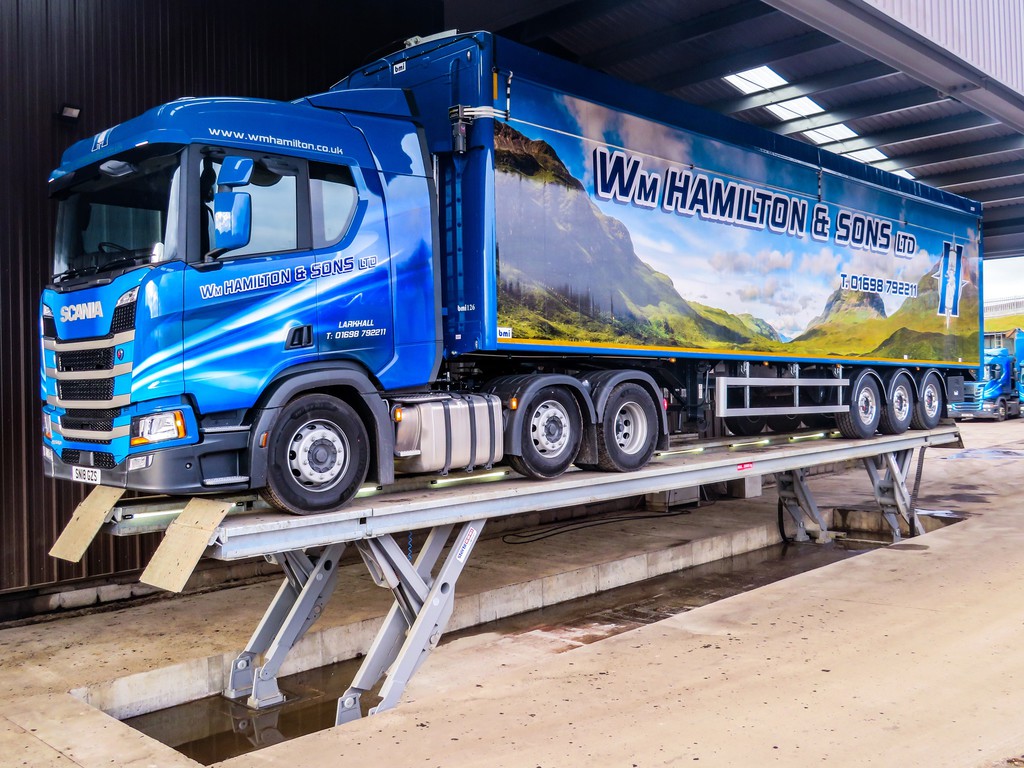 Based at Dovesdale Farm in Stonehouse, Larkhall, Wm Hamilton & Sons is one of Scotland's leading providers of logistics solutions to the UK's construction and waste industry plus many local authorities and highway agencies. The company's extensive fleet comprises a mix of over 70 modern vehicles including bulk articulated tippers, 8-wheel tippers, curtain siders, waste ejector trailers, powder tankers and road sweepers. In order to help keep the fleet in optimum condition, the Stertil Koni Skylift is used on a daily basis within a programme of scheduled safety inspections and maintenance operations.
Offering a lifting capacity of 35t, the Skylift 350 is installed in a shallow pit, flush with the washbay floor, to simplify the positioning of vehicles on the lift's integral 14.5m long parallel platforms. These hot-dip galvanised platforms also feature an anti-corrosion coating and full LED lighting. Located in an outside washbay area, the heavy duty, electro-hydraulic Skylift is operated via an adjacent stainless steel control console. Also, since the lift is electronically controlled, a number of specific requirements may be programmed into its operation whilst an internal LCD provides constant system information.
Stertil Koni's range of low maintenance, long life Skylift models offers capacities from 20 to 35t and can be installed to suit customers' needs and within space limitations of workshops or working areas. This is aided by the Skylift's vertical lifting and lowering movement. Easily installed, moved and maintained, the Skylift is the ultimate lift in terms of efficiency, versatility and safety. Varying platform lengths accommodate any vehicle including lorries, trucks, tractors and articulated buses whilst remaining unobstructed from all sides.
The Skylift can also be used in tandem, linking two lifts in a line to provide a total maximum lifting capacity of up to 70t. The user can operate the two lifts as a synchronised pair or operate both lifts independently. This is especially necessary when lifting articulated vehicles, trucks and semi-trailers or vehicles with an uneven weight distribution, such as a truck and crane combination. Importantly, an independent mechanical locking mechanism is always active to ensure total operator safety.
Stertil Koni engineers were able to install the Skylift 350 within a matter of weeks.
OTHER ARTICLES IN THIS SECTION