Free gas table
27 November 2018
Ion Science, leading manufacturer of high performance gas detection instrumentation for global environmental and occupational health monitoring applications, is offering a free gas table to customers who register their well proven Tiger and Tiger Select handheld volatile organic compound (VOC) detectors online to receive the company's five-year extended warranty.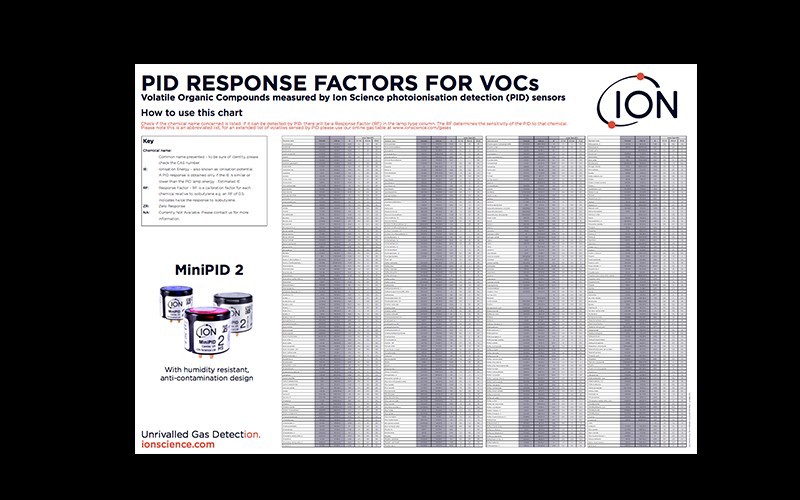 Customers will benefit from the five-year extended warranty by registering their Ion Science Tiger or Tiger Select Photoionisation Detector (PID) within one month of purchase via an online form at www.ionscience.com/instrument-registration. A confirmation email advises that the extended warranty period has been activated and processed.
Ion Science's VOC Gas Table provides information on a wide range of potentially hazardous gases and vapours, with advice on the most suitable instrument for the application. It also contains vital detail on PID response factors (http://info.ionscience.com/voc-gas-table).
Duncan Johns, MD at Ion Science, said: "Ion Science's Tiger and Tiger Select handheld PIDs have established an unrivalled reputation for high performance, durability and reliability. The five-year extended warranty shows that we trust our products and have confidence in their longevity.
He added: "Instrument registration takes minutes with those customers being the first to receive product updates and notification of special offers. It also ensures a quick, hassle-free repair in the event of a service issue."
Ion Science provides a full calibration, maintenance and repair service for all its instruments.
OTHER ARTICLES IN THIS SECTION