ARTICLE
Drum handling for all shapes and sizes
19 February 2019
ST CLARE Engineering Ltd has been manufacturing a range of fork lift truck attachments under the Grab-O-Matic trade name for 60 years to handle drums and other containers of all shapes and sizes.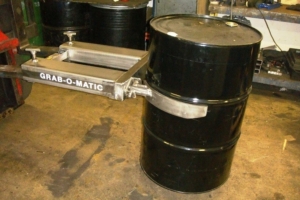 Recently it was asked by a client to manufacture one of its Grab-O-Matic model DH-1 single drum handlers for use within an ATEX zone. This is a workspace deemed to have a potentially explosive atmosphere.
The DH-1 is suitable for steel drums only with pronounced rolling rims. The drums are automatically grabbed around the waist and released when set onto a surface and the truck reversed away.
Its range of fork attachment drum handling equipment is usually made from high quality British steel, with frames and pillars made from 6-12mm steel to ISO 9001:2015 standard and issued with test certificates to guarantee safe operation.
Grab-O-Matic drum handling attachments are robust, manufactured entirely in the UK by precision engineers, and it carries out a 100% inspection of all products before they leave the factory.
For more information call 02380 643402 or email sales@stclare-engineering.co.uk.
OTHER ARTICLES IN THIS SECTION