Showing above the neck PPE at A + A
29 October 2019
JSP will show its latest safety products and solutions at A + A 2019.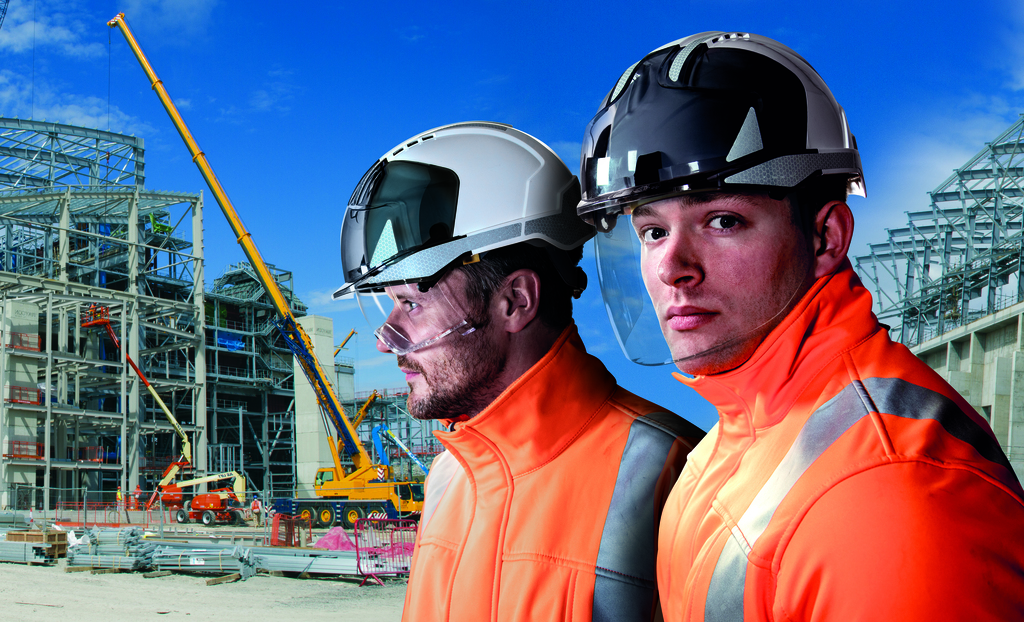 JSP will launching new PPE innovations at the exhibition, which takes place in Dusseldorf from 5 to 8 November. These will include:
New EVO VISTA Safety Helmets which integrate fully retractable Optical Class 1 protective eyewear. EVO VISTAshield incorporates a faceshield; and EVO VISTAlens incorporates an overspec. Fully adjustable pivot arms allow the shield and lens to be deployed outwards and over prescription spectacles.
New EVO VISTA Dualswitch Safety Helmets. These incorporate eye protection in the form of a shield and lens (as above) and provide protection performance to both EN397 and EN12492 on one certificate. Flicking the switch changes the retention strength of the helmet's fully adjustable 4-point chinstrap to give conformity to either the Construction Helmet EN397 standard or the Climbing Helmet EN12492 standard for working at height.
New JSP-GO Retail range. The range of head, eye, hearing and respiratory protection uses an icon based communication tool via QR code that links to JSP-GuidesOnline - A multi-language platform filled with informative tables and demonstration videos to provide everything needed to aid the correct selection of PPE for individuals worldwide.
New PressToCheck Compact Filters. These low profile filters offer very low breathing resistance and excellent compatibility when worn with other PPE. The ultra-lightweight design still offers the award winning PressToCheck technology to check a safe face fit.
New EVOGuard range, an advanced range of Optical Class 1 industrial visors and an extensive range of forestry visors designed using the latest technology for improved light transmission and protection.
New Swiss One Safety RX Eyewear, a specialist range of eyewear with the highest standards of design and precision engineering that is both attractive and comfortable to wear and which uses a special technology to enable RX prescription by taking a 'Selfie'.
JSP sells its products exclusively through its distributor network partners in more than 100 countries, helping modern multinational end users implement the most effective and efficient health and safety protection programmes consistently worldwide.
In July 2018, the company opened its new manufacturing and distribution facility in Dusseldorf, and is now able to offer next day despatch service to European customers for 2500 products.
OTHER ARTICLES IN THIS SECTION