Monitoring RF and electric radiation
02 October 2017
HAVSCo, well known for its HAVS vibration dosage monitoring system has now added the monitoring and measurement of RF and electric radiation to its range.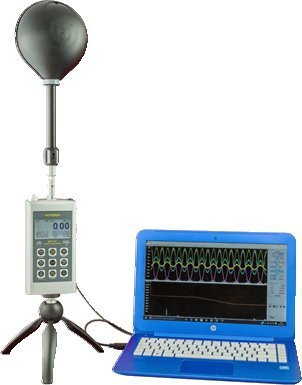 The Microrad range of RF meters offer a comprehensive solution for demonstrating compliance to CEMFAW(2016) regulations. These regulations were introduced last year and aim to ensure that employees are not subjected to potentially harmful levels of RF radiation, or electric or magnetic fields. The NHT3D meter set offers measurement of electric, magnetic and static fields without the need to change the sensor probe, and covering the range DC to 400KHz. An optional sensor probe extends this range to 40GHz. A GPS receiver is integrated into the meter as standard.
These professional high performance meters offer the high levels of integrity essential for safety related measurements. The meters can be configured to sound an alarm if measurements approach or exceed the legal limits. They also record results to memory, together with date/time and location information which can be uploaded to PC and plotted on mapping applications.
These meters are particularly suited to measurements in hospitals (eg, MRI facilities), railways and across many processing, telecommunications and metal treatment industries.
www.healthandsafetyevents.co.uk/north
Stand M28
MORE FROM THIS COMPANY
No related articles listed
OTHER ARTICLES IN THIS SECTION