Safety app
20 July 2017
Effective Software, the Irish and UK provider of safety software, has launched its new Engage App.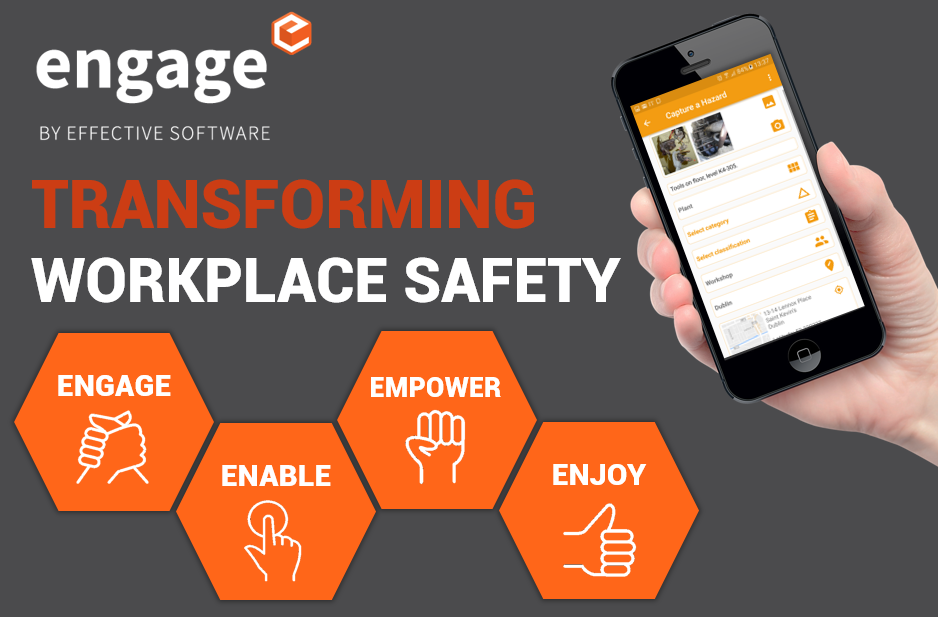 The app is a complete safety solution, increasing the ability of organisations to prevent workplace incidents and help companies comply with increasingly stringent legislation and avoid fines & executive prison sentences.
The Engage App supports the capture of all data surrounding any potential incident area in a legally prudent, time efficient and cost-effective manner. All employees in an organisation can positively engage with health & safety compliance and incident prevention by using the app on a smartphone or tablet. As with the Effective Software platform, the Engage App can be used across industry - manufacturing, engineering, utilities, logistics, education and pharma - among others.
The Engage Apps appealing design allows users to capture and share imagery, locations and custom categories with minimal employee training. The app is fully integrated with Effective Software's safety platform, thus providing management with actionable insights to shine a light on your business and improve real time health and safety decision making.
The implementation of the new Safety Offences Sentencing Guidelines late last year means organisations of all sizes are now being found guilty of health and safety offences and facing soaring fines and director jail sentences. These new guidelines ensure that increasing responsibility is placed on board members and directors in the event of workplace accidents and jail time has already been handed down to management who have not complied.
Effective Software's founder and CEO Darragh Geoghegan said: "We are aiming for a simple experience where an employee can spot a hazard, report an incident and create an action in an instant capturing basic details including photos and locations, and report it, with a minimum of fuss and clicks."
He added: "Use of the Effective Software platform has already saved our clients hundreds of thousands of euros in insurance and pay-out expenses and with increasing additional legal scrutiny, the systematic and holistic capture of workplace hazards and incidents is now more crucial than ever before."
Effective Software has many more features and product modules that it plans to layer on and around the Engage App experience after the first product release is complete. But the initial focus is to deliver an easy to use app that encourages positive health and safety engagement by all.
The launch of the Engage App is a part of Effective Softwares overarching goal of Transforming Workplace Safety. Effective Software's purpose is to help organisations streamline compliance and minimise risk by providing a smart, flexible, affordable, compliance management system.
To learn more about the Engage app or to request a demo, click here.
OTHER ARTICLES IN THIS SECTION