Envirogard adds to fleet
29 November 2018
SPECIALIST EQUIPMENT supplier Envirogard has added MH-P-1200 mobile safety showers to its hire fleet; the units are equipped with overhead full body showers and in addition come complete with emergency eyewash stations.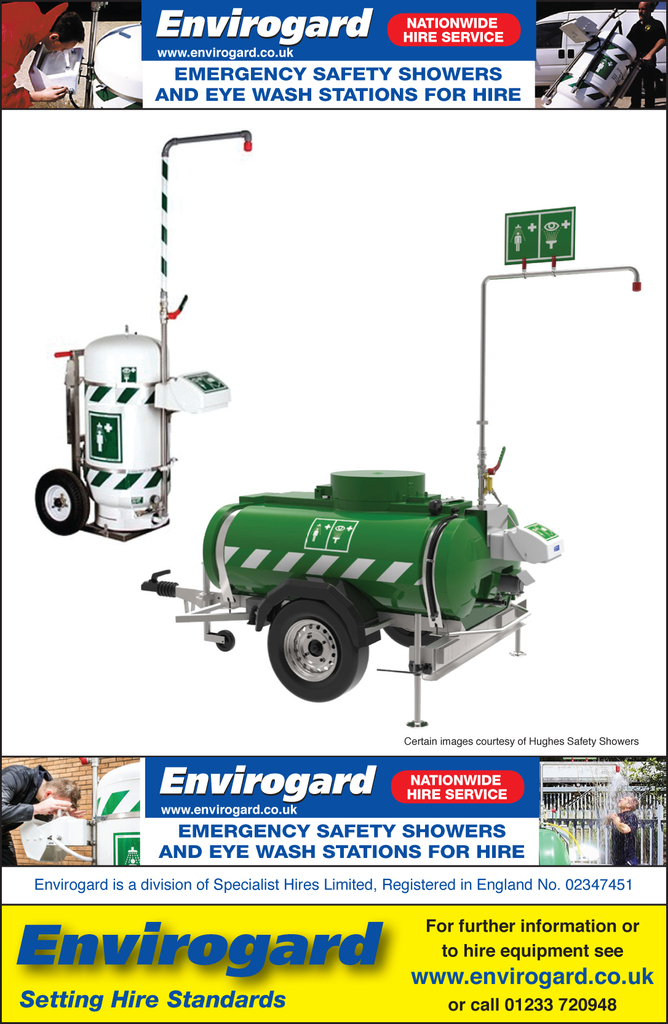 Each unit holds approx 1200 litres of water, which allows it to deliver a full body drenching shower for up to 15 minutes; an integral heater and pump delivers tempered water on demand.
For user safety and ease of operation Envirogard's hire units operate using a 110v supply which is simply plugged into the trailer; the electrical power can be provided through a standard construction site portable transformer or small generator.
These trailer units are approved for highway tow so they can be located as and where required – anywhere a vehicle can get to this unit can be deployed.
When vehicle access isn't possible, or where power isn't available, a popular alternative product is the STD-40-K. This is equipped with an unheated safety shower and emergency eyewash station; once filled with clean water it requires no power and will operate autonomously. The STD-40-K provides a preliminary cold water drench shower of approx 100 litres lasting up to 1 ½ minutes duration.
Its small size (it can pass through standard personnel doors), ease of manoeuvrability (it can be relocated by a single person), and simplicity of operation make the STD-40-K very attractive.
Both these safety shower products can be hired for periods as short as 3 days and Envirogard provides a nationwide service. For more information click this link.
MORE FROM THIS COMPANY
No related articles listed
OTHER ARTICLES IN THIS SECTION